Young & Hungry: Should Gabi Choose Josh or Cooper? (VIDEO)
We were sure Gabi (Emily Osment) was going to finally choose her man after the two-seasons-long love triangle came to a head in last night's episode of Young & Hungry. But when she declared her feelings for her boss Josh (Jonathan Sadowski), her boyfriend Cooper (Jesse McCartney) overheard through the sound system in Alan's (Bryan Safi) packed karaoke bar. And instead of being teary-eyed, Cooper got mad, telling Gabi that Josh had backed out of his plan to confess his love months ago—and made everyone she cares about keep the truth from her.
Neither guy is looking too great at the moment, but Gabi's going to have to solve things in next Wednesday's midseason finale. We'd recommend a pro/con list, but here's what the show's stars would suggest to settle her predicament:
[jwplatform JwjNssv5-gdaXI0eR]
So, are you Team Josh or Team Cooper? Let us know in the comments below!
Young & Hungry, Wednesdays, 8/7c, ABC Family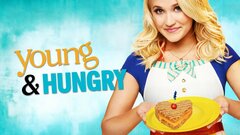 Powered by