The First 'Bastard Executioner' Trailer Is Here
If you weren't watching the season premiere of FX's The Strain Sunday night, you missed the first trailer for Sons of Anarchy creator Kurt Sutter's Next Big Thing: The Bastard Executioner.
The preview gives us our first in-motion look at Wilkin Brattle (newcomer Lee Jones), a knight formerly in service to King Edward I, as he retires to what he hopes is a nice, quiet life in Wales. What he finds is a political hornets' nest that drags him back into a life of blood and steel as the titular executioner for Stephen Moyer's English lord. SoA's Katey Sagal and The Americans' Matthew Rhys are also aboard, and Sutter himself will appear as bodyguard/husband to Sagal's mystical Welsh witch Annora of the Alders. Shooting in Wales gives it quite the air of misty authenticity. See for yourself:
TBX will premiere in the fall (exact date TBA).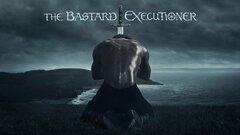 Powered by