Evolving the Plan to Vanquish Vampires on 'The Strain'
The vampires strike back! And there is some seriously bad blood brewing between mankind and the Big Apple's resident bloodsuckers, the strigoi, on the second season of The Strain.
"New York is on fire, it's being looted…it's almost an Escape From New York thing," says executive producer J. Miles Dale, teasing that the city is in for one hell of a bite as the worm-spouting vamps continue to infect the residents.
Having failed to vanquish the Master (Robert Maillet), our heroes—CDC doctors Eph Goodweather (Corey Stoll) and Nora Martinez (Mia Maestro), exterminator Vasiliy Fet (Kevin Durand), hacker hottie Dutch (Ruta Gedmintas) and sword-wielding vampire hunter Abraham Setrakian (David Bradley)—are rethinking their decision to treat the vampire apocalypse as an Ebola-like outbreak. "[They] know a lot, but not everything, about these creatures and what is going on," says executive producer Chuck Hogan. "Now that Eph has seen the Master, he knows that this is in no way a scientific or medical problem, and that will give him a very direct [plan] in the first half of the season."
And he may have some unexpected help. Borrowing from The Fall, the second in the Strain trilogy of novels penned by Hogan and fellow executive producer Guillermo del Toro, the show will showcase the Ancients, a withered and horrifying group of centuries-old vampires. These vamps have come up with a very interesting way to stop the Master, which could prove fortuitous to Eph's band of slayers.
Just don't go looking to the books for spoilers. In addition to ramped-up action and a lot more vampires, a host of original twists and characters will be introduced that will upend the source material's storylines, alter established relationships and possibly even shift loyalties. "It's definitely not just good guys vs. bad guys," Hogan says of these shady alliances. "The different factions and conflicts within this battle give the story more texture and more points of view." Well, that certainly doesn't suck.
The Strain, Season premiere, Sunday, 10/9c, FX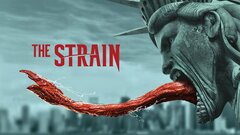 Powered by