Comic-Con 2017: Your 'Westworld' Burning Questions Answered
A host uprising is a-brewin' on Westworld, with at least one of them breaking free from the shackles of the dreaded rehabilitation laboratory that engineers (and, more importantly, re-engineers) their bodies. Plus, an entirely new level of the park was revealed in last year's season finale. Now, series creators Jonathan Nolan and Lisa Joy give us a hint of the new vistas and views that can be expected in Season 2.
Host Maeve's (Thandie Newton) decision to search for her long-lost daughter was the first real choice she made. How will that newfound freedom affect her arc going forward?
Joy: Her goal was very single-minded: Get out of the park, look after herself. That's how she was coded to be. She managed to transcend her code and all of the leashes holding her back and has chosen a different part of her past to feel an emotional connection to—her daughter. She made the decision to embrace that part of herself and not let go of this love that she had, even if it was an artificial construct. The whole idea of motherhood, and the love that sprung from it, is real. And that love is what is going to drive her quest for the upcoming season.
The hosts are beginning to rebel—how will the humans handle it?
Nolan: The humans are going to be handling it pretty badly. [Laughs] One of the things that Lisa and I were always drawn to with this show is the "world" part of Westworld. We're going to meet one or two new humans and see how the impact of [these events] has spread around the park.
What role will the samurai-themed "SW"—or any of the other new areas of the theme park—play in the upcoming season?
Nolan: We're very engaged with the story we're telling and the characters and the world we've come to know. But the concept of glimpsing some of those other worlds is exciting too. If we were going to shoot anything like "SW," I think it would be cooler if it were called Shogun World!
Joy: We're going to see an expansion of Westworld in a lot of ways. Not only are we potentially interested in exploring a world that has the initials "SW," but we're also going to be exploring the characters within the world that we know and some other characters we come across that are both host and human.
I know it's super top secret, but Is there anything else you can tease about Season 2?
Nolan: I think one of the things we're excited about for the second season is that beyond Westworld, you're going to get a look at the real world [outside the park]. Season 1 was ambitious. But Season 2 will be twice as ambitious in terms of scope and scale.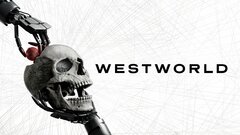 Powered by