PaleyFest 2017: 'Westworld' Season 2 Will Explore Different Point of Views
HBO's Westworld ended its first season with a bang, as the hosts (the artificial intelligence creatures that populate the amusement park) rebelled—though how much of it was because of a predetermined narrative is still up in the air—and the series revealed there were other themed levels to the park.  With the writers deep into mapping the sophomore, "we're blowing up some of the preconceptions of where we might go," executive producer Lisa Joy teased to TV Insider before the show's PaleyFest panel. "It's exciting stuff!"
One of the potential differences between the first two seasons is how the show will be formatted. The first season told the story through multiple timelines, though that wasn't apparent until the finale when it was revealed that William (Jimmi Simpson) was a younger version of the series' villain the Man in Black (Ed Harris).
"I think as with Season 1, any basic different timelines were rooted in what the characters were going through," Joy noted. "At that point, it made sense to do multiple timelines, because it showed how Dolores felt, and that confusion: I'm in love, but this guy is coming for me. [Only] then realize, I haven't changed, but so much time has changed and now he's this. The timeline thing is in service of landing that point of view for Dolores."
In Season 2, "I think we'll experiment in different point of views and different angles," Joy continued. "You don't necessarily want to repeat the same thing."
Related
And what about the other levels/genres of the park? The tease of "SW" with hosts training in martial arts (versus the Westworld level's western theme) in the finale was just enough to keep fans guessing on even the official title of the level. "I prefer Shogun World," executive producer Jonathan Nolan said, before quickly adding: "Not that it's in the show!"
"I think we imagined with the show, it would be a slow and steady pullout [of what's going on]," he continued. "The first season there would be a glimpse of the world, and as the seasons go on, you see a little bit more as our hosts come to understand what the real world is." Added Joy: "Also, swordplay."
During the PaleyFest panel, Nolan confirmed that when host Maeve (Thandie Newton) opted to return to the building to find her daughter (rather than escape), that was truly her choice. "That is the first decision she's ever made," Nolan admitted. "We went to hand-held camera [in the filming of that scene]…you're seeing free will there."
And after the show's music got praised by a fan during the panel, Joy teased an upcoming song they're planning to do is "a strange shout out to a joyful song" from a children's movie that they'll "co-opt" for Season 2.
Westworld returns in 2018 to HBO.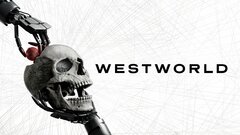 Powered by