Want to Tour Westeros Without an Army? 'Game of Thrones: The Touring Exhibition' Is Coming
Game of Thrones fans: Wonder what those costumes really look like in person? Wish you could tour Westeros and the lands beyond—without getting attacked by armies, wights or dragons?
You're about to get your chance.
Launching this fall in Europe, with worldwide dates announced soon, "Game of Thrones: The Touring Exhibition" drops you in the center of the Seven Kingdoms for a close-up look at authentic props, costumes and set decorations from the addictive HBO series, which is about to start its seventh season.
A partnership of HBO Global Licensing and global events provider GES, the 10,000-square-foot exhibit will combine immersive environments, and interactive and multimedia content to let fans to experience life in the mythical lands of Westeros and Essos—from King's Landing to the land Beyond the Wall and across the Narrow Sea, including:
The wintry landscapes of the North, the tree-lined pathway of the King's Road and the regal settings of King's Landing.
The conquered city of Meereen with its garrisons of Unsullied warriors and the loyalists of House Targaryen.
Iconic settings like the mysterious House of Black and White, the home of the Night's Watch: Castle Black; and the frozen lands Beyond the Wall.
The show-stopping centerpiece of the iconic Iron Throne Room, where visitors can gaze upon the Westerosi seat of power in all its foreboding glory.
Showcasing the craftsmanship and artistry of the series' production in the largest public display to date, "Game of Thrones: The Touring Exhibition" also features displays of costumes, props, weapons and armor.
"Game of Thrones has truly become a worldwide phenomenon, with fans avidly watching the show throughout all corners of the globe," said Jeff Peters, director of global licensing for HBO, in the tour's announcement. "Based on the stellar work GES has done with previous entertainment partners, we think this exhibition is going to be something fans will love, regardless of which part of the world they call home, and we're excited to give them the opportunity to visit and celebrate the incredible craftsmanship of the talented Game of Thrones production team."
Game of Thrones Season 7 premiere, Sunday, July 16, 9/8c, HBO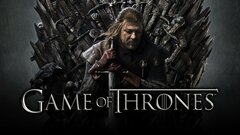 Powered by