Need a 'Game of Thrones' Season 6 Refresher? Try These Essential Episodes
Catch up on these essential episodes of Game of Thrones before Season 7 begins.
Book of the Stranger (Episode 4) After escaping her vile husband, Ramsay Bolton, a vengeful Sansa reunites with Jon. She vows to reclaim her family home at Winterfell and decimate the Boltons, but Jon hesitates—until Ramsay sends a message threatening to kill their younger brother, Rickon, and the Wildlings, which he later does. Then it's game on. Meanwhile, in Essos, Daenerys sets an inferno that burns her captors to death but leaves her unscathed. It's the second time she's survived a blaze with seemingly supernatural power. She's more determined than ever to sit atop the Iron Throne.
The Door (Episode 5) In a trance, Bran Stark learns the Children of the Forest created the White Walkers. He also foolishly lets the evil Night King (above) touch him, leaving a mark that allows the King and his undead army to find him. As they attack, Bran's beloved protector, Hodor (Kristian Nairn), heartbreakingly pays the price as he is ripped apart by an army of skeletal wights. Back at Castle Black, Littlefinger tells Sansa he can bolster her army, but she sends her faithful protector Brienne (Gwendoline Christie) to seek another alliance.
The Winds of Winter (Episode 10) Cersei blows up the Sept and vows to rule the kingdom. She kills her enemies but creates more foes and woes when she learns Tommen has killed himself. At Winterfell, Jon is declared King in the North, but scheming Littlefinger is already plotting his downfall. The murderous manipulator directs a meaningful look toward Sansa, and her smile at Jon's success fades fast. Back in Westeros, Cersei is crowned queen.
Game of Thrones, Season Premiere, Sunday, July 16, 9/8c, HBO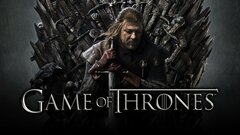 Powered by