'The Flash': 9 Things to Know Before Fast Tracking to Saturday's Comic-Con Panel
The Flash's first season finale was the perfect storm of cliffhangers: death, destiny, and Barry Allen (Grant Gustin) in the eye of it all—literally—as a black hole threatened to devour Central City. Can our hero save the day? "The way it plays out will hopefully be something people aren't fully expecting," says executive producer Andrew Kreisberg, who offered up some teasers for Season 2 (and beyond). Plus, speed your way to more answers at The Flash/DC Comic-Con panel, and visit TV Insider's Comic-Con page for more features.)
When Eddie (Rick Cosnett) killed himself, it changed the future so that Eobard Thawne (played in flashbacks by guest star Matt Letscher and in the present by Tom Cavanagh) was never born. So wouldn't that mean that Eobard (aka Reverse-Flash) never murdered Barry's mom?
Not exactly. "There will be some scientific explanations" about why the sacrifice Eddie made undid his future relative but did not save Nora Allen (Michelle Harrison), Kreisberg promises. He hints that the gang's proximity to the time-traveling wormhole may have altered only parts of history. "There will be some changes next year but not as radical as people might expect."
Will we see either of the Thawnes again?
Cavanagh will be a series regular next year, but Kreisberg is coy regarding Cosnett's return. Citing Colin Donnell's Arrow appearances after Tommy's death and Caity Lotz's resurrection as Sara Lance for DC's Legends of Tomorrow, he laughs, saying, "No one is ever really dead on these shows."
Does the Justice League exist somewhere in the Flashverse?
Possibly in the future. After all, when Barry first met Gideon, the Reverse-Flash's artificial intelligence system, she recognized him as "the Flash, founding member of…" before he cut her off. "We never say never to anything," Kreisberg says, but he admits that at this point "We're not promising anything."
Is the time-traveling Harrison Wells—the alias Eobard Thawne has assumed for the past 15 years—actually H.G. Wells?
"I'm surprised nobody picked up on that earlier," Kreisberg says of the homage to the iconic English science-fiction novelist before shooting down the theory. "It was just something that tickled our fancy. It was a strong-sounding name."
Victor Garber's Martin Stein is part of the Legends of Tomorrow cast, but the other half of the Firestorm persona, Robbie Amell's Ronnie Raymond, is not. What's up with the nuclear-powered hero?
Patience, kids. By the beginning of the new season, Kreisberg promises that we "will find out why only Stein is going to Legends."
Plus: Get more The Flash news on TV Insider's Comic-Con page.
Is Caitlin (Danielle Panabaker) about to go bad?
Even though Barry's run through the Speed Force gave us a peek at Caitlin as Killer Frost—one of many nods to seminal DC Comics moments glimpsed in the sequence—Kreisberg says "there is no guarantee that any of this is happening. People don't need to worry that the show is going berserk next year with everyone having powers."
But Cisco (Carlos Valdes) will become Vibe?
Eventually. How the S.T.A.R. Labs techie was affected by the particle accelerator explosion "and what he can or can't do are certainly going to be part of Season 2," Kreisberg says. "But [don't] get too excited that he's going to be a breakdancing superhero anytime soon," a reference to the original 1980s character's trademark moves.
How will Iris (Candice Patton) fit into Team Flash?
Don't tell Felicity (Emily Bett Rickards), but Caitlin is about to get a new gal pal. "One of the things we tried to do near the end of the season was bonding Caitlin and Iris," says Kreisberg. "Seeing them together is so much fun. Two strong women having that relationship and it not being about Barry is great."
If Reverse-Flash is really gone, who is next season's foe?
Like we would spill that before Comic-Con. "We have a great new villain we are really excited about" is all Kreisberg will reveal. But trust us, it's a good one! And by good, we mean a really big bad.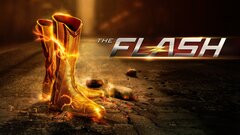 Powered by