Behind the Scenes of 'UnReal's Sex, Lies and Very Meta Videotape
A scripted show about the behind-the-scenes drama of an unscripted show with two female producers…from two female producers? Hello, meta! In Lifetime's acidic, infectious UnReal, Shiri Appleby (Roswell) stars as Rachel, an up-and-coming field producer on a Bachelor-style dating show called Everlasting. That series is teeming with insanity, betrayal and emotional abuse, on and off camera, thanks to the machinations of steel-enforced executive producer Quinn (Constance Zimmer). Here, the actresses and their bosses—executive producers Marti Noxon (Girlfriends' Guide to Divorce) and newcomer Sarah Gertrude Shapiro—talk about playing on both sides of the TV fence.
Marti, you have worked on everything from Buffy the Vampire Slayer to Glee, and this is Sarah's first scripted show. How did you two end up together?
Noxon: It started with Sarah's short film about a reality show, Sequin Raze. She had sold it to Lifetime and [they] called me one day, saying, "We have this incredible project and we're a whole new Lifetime." But I wasn't sure I was a Lifetime writer. I'd pitched stuff they'd passed on before, so I was a little reluctant. Once I saw her film, though, I was intrigued and excited by the opportunity to write about this stuff. I love reality television.
Sarah, you were a field producer on Jesse Palmer's season of The Bachelor in 2004. Did that experience inspire you to take on this particular genre?
Shapiro: When Marti and I sat down to write UnReal, it was like blank whiteboard and dry-erase markers. We set out to write a television show, not an exposé.
Were you ever afraid that this would descend into parody?
Shapiro: We were adamant [that we would not do that]. That is definitely not what we wanted this to be.
Zimmer: They didn't hold back. It's super dark.
And dirty! The language alone…
Appleby: And that's not even what's most shocking. What our characters do is really shocking!
Noxon: I feel like it's at a Network level of dark comedy.
Shapiro: Exactly. Broadcast News and Network were huge references for us.
How would you describe Rachel and Quinn's relationship?
Zimmer: It's kind of a twisted mother-daughter dynamic.
Appleby: Quinn is a look into the future for Rachel. I think Rachel asks herself, "Is that a version of the woman I want to be?" As the season goes on and Quinn gets Rachel to do things that really make Rachel question her own morality, Quinn's life becomes less appealing. But then again, being your own boss, having your own show, having power…
Shapiro: …having really good clothes!
Appleby: Yes, having a fantastic wardrobe. That is all interesting to her.
Is Everlasting's backstage drama—breakdowns, hookups, Quinn bullying her staff—typical of most sets, reality or otherwise?
Zimmer: We all hear stories of directors who scream at their actors or of producers sleeping with the extras.
Shapiro: Well, that is true. But you don't have to comment on our behavior, Constance. That's private! [Laughs]
Zimmer: Sorry about that! [Laughs] But anytime you do a series like this, [things] are going to be an amalgam of what we've all experienced.
Shapiro: The crew on our set was obsessed with this series. Because it's about them. And they were [filming] people who looked and dressed like them all night.
Zimmer: I spent the first week speaking to people I thought were the crew but were actually extras playing the Everlasting crew.
Noxon: I asked an extra to go get me something! We ended up having everyone on the crew get waivers so we could show them on camera.
Rachel frequently buddies up to Everlasting contestants, then uses their insecurities to make them emotional basket cases once the cameras roll. Constance and Shiri, have you ever felt manipulated by producers in real life?
Appleby: I hate to say it, but that's their job—to manipulate us to get what they need. Whether we're saying lines the way they want or are dressed the way they want. I don't say that with anger. We walk into the situation as actors knowing those are the roles that we're filling.
Zimmer: We're puppets.
Noxon: But you guys are really, really good puppets. [Laughs]
Zimmer: Right. We're the Jim Henson [brand] of puppets!
Unreal, Mondays, 10/9c, Lifetime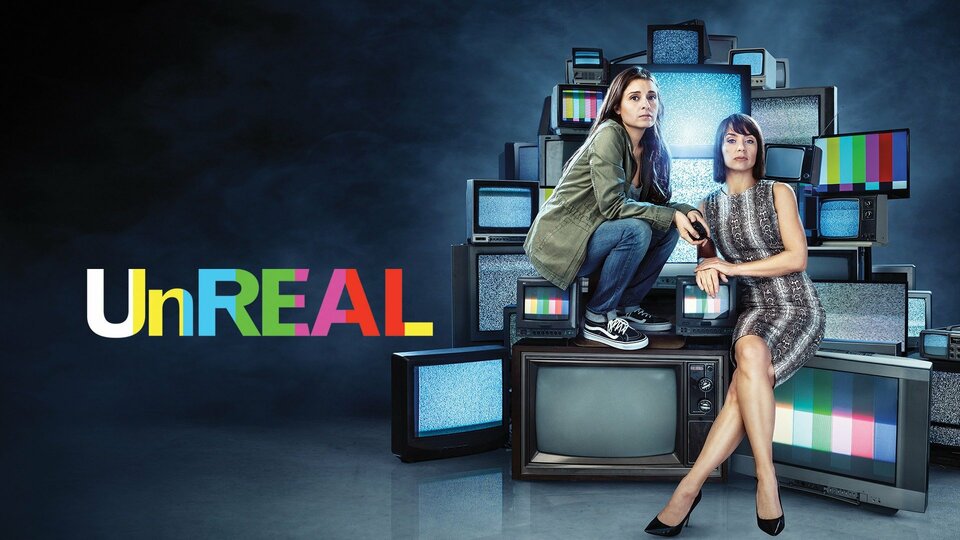 UnREAL
where to stream
Powered by