'Angie Tribeca': Mother-Daughter Duo Peggy Lipton and Rashida Jones Team up in Season Finale (VIDEO)
Season 3 of Angie Tribeca has featured so many A-list cameos it's hard to tally them all up. Michelle Dockery, Chris Pine, Heather Graham and Natalie Portman are just a few of the stars who have stopped by the TBS cop spoof this year, and the upcoming season finale features one of the most special special guests to appear on the series—to star Rashida Jones, anyway.
With a serial killer still on the loose and Dr. Scholls (Andrée Vermeulen) missing, the last thing Detective Tribeca needs is her mom poking around the forensics lab. But in this exclusive clip, Twin Peaks alum—and Jones' real-life mama—Peggy Lipton shows up as Tribeca's mother.
This isn't the first time Jones and Lipton, who won a Golden Globe for her role in the late '60s show The Mod Squad, have acted opposite each other. They appeared as versions of themselves in a 2015 Verizon commercial that had clueless millennials who didn't recognize Lipton criticizing the telecom company on Twitter for casting such a youthful actress to play the then-38-year-old Jones' mother.
Jones' response was characteristically good humored:
😂😂😂 that IS my mom! @mspeggylipton https://t.co/GLlQn3Xxjp

— Rashida Jones (@iamrashidajones) October 26, 2015
Angie Tribeca, Season Finale, Monday, June 12, 10:30/9:30c, TBS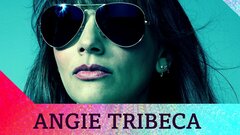 Powered by