Kyle MacLachlan and David Lynch on the Return of 'Twin Peaks' (Plus, a Comprehensive A to Z Guide!)
This article was originally published in the May 15th issue of TV Guide Magazine. Subscribe to TV Guide Magazine.
When David Lynch and Mark Frost's surreal Twin Peaks debuted on ABC in April 1990, the nascent World Wide Web was not yet a delivery service for instant feedback—or spoilers. Audiences found themselves frustrated yet intrigued with having to wait, week after week, to learn clues about the trippy show's central mystery: Who bumped off small-town bad girl Laura Palmer (played by Sheryl Lee)? But even in today's era of information overload, Showtime has unveiled only the most cryptic of teasers about the much-anticipated 18-episode revival, leaving fans waiting yet again.
Returning star Kyle MacLachlan, who revisits his lead role as unorthodox FBI Special Agent Dale Cooper, also has remained mum on what Coop's beat will be. Is there a new murder? Is java-loving Agent Cooper still seeing apparitions? Will anyone's deceased soul find its way into a drawer's knob? (Yes, that actually happened—along with jazzy dance breaks, soul-stealing supernatural entities in jean jackets and lots of ebullient appreciation of doughnuts and sandwiches.) "I wish I could tell you more," the actor says with a laugh. "I'm just incredibly excited about what people's response is going to be."
Here's what's known: It's now 25 years after the Northwest community of Twin Peaks parsed out the demise of homecoming queen Palmer, with her last seven days rumored to provide a crucial clue to the new narrative. Lynch is directing and cowriting—with producing partner Frost—all 18 installments of the limited series. So how was it to be back in the director's chair? "Close to heaven on Earth," says Lynch (below, with the late Miguel Ferrer). "It's like a feature film divided into parts, so in order for it to hold together, it should be [made] by the same bunch."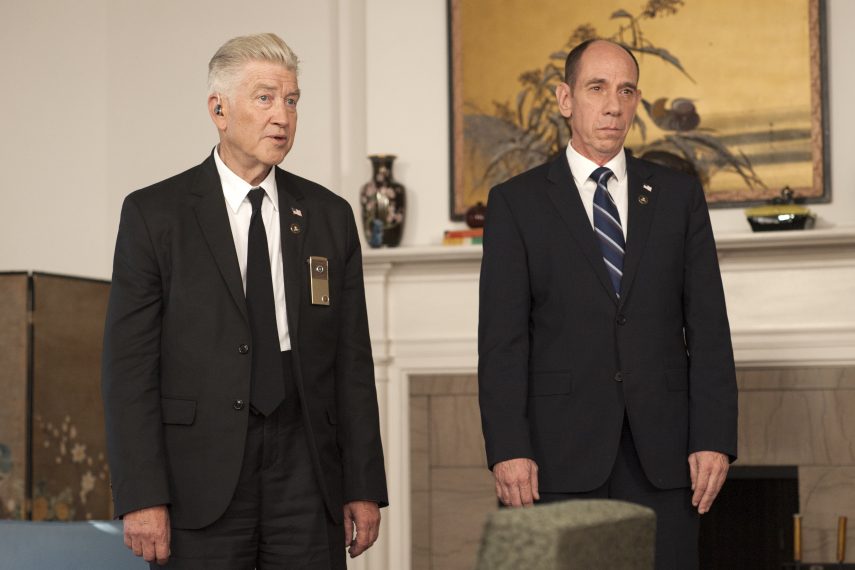 In fact, fan faves such as Mädchen Amick (Shelley), Sherilyn Fenn (Audrey), Kimmy Robertson (Lucy), Harry Goaz (Deputy Andy), Dana Ashbrook (Bobby) and James Marshall (James) are all back. "We'd see each other, and within seconds it'd be like no time had passed at all," says Lynch, who also reprises his role as comically hard-of-hearing FBI Chief Gordon Cole. Plus, a bevy of new faces in secret roles adds star power to the 217-person cast, including Jennifer Jason Leigh, Naomi Watts, Richard Chamberlain, Ashley Judd and Laura Dern.
This incarnation also marks a TV milestone: The first two parts are making their debut this month at the Cannes Film Festival, the first time in the fest's 70 years that series television will be shown alongside glitzy gala movie premieres.
"I love revisiting the world and the characters of Twin Peaks," Lynch says, noting the reboot might not all be set in the town we once knew. Given the various celebrations and fan sites in the show's honor, so do many viewers. How good is your recall on Twin Peaks?
Here's your ultimate A-to-Z guide to the seminal drama—including some cool trivia. Cherry pie and cup of joe optional. (Additional reporting by Jeff Pfeiffer)
Angelo Badalamenti The American composer nabbed a Best Pop Instrumental Grammy in 1991 for Twin Peaks' haunting main theme. Another fun fact: He's scored six of Lynch's films and even has a small role in one of them: 2001's Mulholland Drive.
BOB, aka Killer BOB This evil ghoul from the supernatural realm (Frank Silva, left) possessed Laura's tortured dad, Leland Palmer (Ray Wise), and eventually, per the final moments of the ABC series, Agent Cooper. Lynch cast Peaks' set decorator Silva in the pivotal role after spotting him in a mirror's reflection, which would later—prophetically—become BOB's creepy visual signature.
Carlton Cuse The Bates Motel cocreator admitted, "We pretty much ripped off Twin Peaks" to capture the tone of the Psycho prequel. Imitation is the sincerest form of flattery!
Diane Keaton The Oscar-winning actress directed the not-very-well-received Season 2 episode "Slaves and Masters," which wrapped up shady businessman Ben Horne's (Richard Beymer) bizarre delusion that he was a Civil War hero.
Emmys Peaks won a pair of trophies (for costuming and editing) but was nominated for a whopping 18 total, including drama series, leading actor (MacLachlan), leading actress (Piper Laurie as Catherine Martell, the town's sullen saw mill proprietor) and supporting actress (Fenn, as teenage seductress Audrey Horne).
See Also
A supposition on what we can possible expect from the long-awaited series return of David Lynch's seminal mystery 'Twin Peaks'.
Fire Walk With Me The maligned 1992 big-screen prequel film—which has since developed nearly as much of a cult following as the series—starred Lynch, Kiefer Sutherland and singer Chris Isaak as agents investigating the murder of Teresa Banks (the show's other initial murder case) and tied into the last week of Laura Palmer's short life.
Great Northern Now known as the Salish Lodge and often flocked to by superfans, the rustic inn seen in the lush opening credits has been renovated into a chic resort and spa that overlooks the Snoqualmie Falls near Seattle.
Horne's Department Store Audrey's job at her dad's retail outlet in Season 1 led from her becoming a swoony Lolita-type into a full-fledged spy, infiltrating his secret brothel after discovering that salesgirls were being lured into prostitution. Scandalous!
Invitation to Love The faux soap opera watched by several Peaks characters often mimicked the series' own storylines, including
one involving a twin cousin. (Lee also played Laura Palmer's more demure, brunette cousin, Maddy Ferguson.)
Johnson, Shelley After auditioning for the role of winsome high schooler Donna (played by Lara Flynn Boyle, who is not returning for the revival), newcomer Amick (now starring on Riverdale) so wowed the producers that they created the role of put-upon Double R Diner waitress Shelley just for her. She quickly became adored by fans.
See Also
Showtime exec promises
Kiana Lodge The Poulsbo, Washington, locale was used for the Great Northern's interior shots and as the Blue Pine Lodge, which was a residence shared by Catherine, her goofy fisherman husband, Pete (Jack Nance), and the sultry Josie (Joan Chen), a Chinese émigré with a dodgy past who famously kept a low profile in the industrial township.
Log Lady The recently departed Catherine E. Coulson's memorably deadpan mystic—who shared a very special connection to her beloved wood—helped Cooper by giving him clues throughout Laura's murder investigation. The Log Lady (seen right) was famously spoofed in an episode of the Rob Morrow series Northern Exposure.
Man from Another Place, The As the key resident of Cooper's dream-induced Red Room, Michael J. Anderson's scary-cool "dancing dwarf" spoke in backward riddles and proclamations. (Our favorite: "That gum you like is going to come back in style.") He later inspired a memorable bit on The Simpsons.
Northwest Passage This was the original name of the pilot script written by Lynch and co-creator Frost. Not as catchy!
One-Eyed Jacks Owned by Ben Horne and run by madam Blackie O'Reilly (Victoria Catlin), this casino was best known for peddling drugs and hookers and, most importantly, for being one of the last places its young employee Laura Palmer was seen alive.
Project Blue Book Agent Cooper was briefed on this real-life 1950s–1960s secret probe into UFOs conducted by the U.S. government, which he was told included activity around the perimeter of Twin Peaks—hence all the ghostly goings-on.
Queen of Diamonds The famous playing-card royal served as inspiration for Audrey's outfit at One-Eyed Jacks on her first night as a new hostess…which almost ends with Audrey's being "broken in" by the owner, who is (gasp) her father!
Roadhouse The show's biker bar hosted several clandestine rendezvous, as well as Cooper's meeting with the Giant (the main figure in Cooper's many dream states), the ill-fated Miss Twin Peaks pageant and musical performances by Julee Cruise's ethereal house chanteuse (who also sings Peaks' main theme, "Falling").
Silent curtain runners High-strung town weirdo Nadine (Wendy Robie) served as its resident inventor too, including this unusual solution for the screech heard when opening draperies.
TV Guide Magazine Twin Peaks placed No. 20 in our 2004 countdown of TV's Top 25 Cult Shows. (Yes, we know it should have been higher!)
Uproar What happened when fans didn't find out who killed Laura in the Season 1 finale or even the Season 2 premiere. BOB's deadly deed was finally revealed in the November 10, 1990, episode, but by then, the low ratings proved more lethal than he was.
See Also
Diane, get ready for the return of Agent Cooper and TV's craziest town—Twin Peaks.
Violence Despite the fact the primetime show was on a broadcast network shackled with standards-and-practices regulations, eyebrows were routinely raised for its unflinching portrayals of domestic abuse, electroshock torture and, indelibly, the signature image of Laura Palmer nestled in a body bag.
Wrapped in Plastic This same image in the show inspired the title of rocker/devoted fan Marilyn Manson's 1994 song about dysfunction, which also samples Laura's screams from the series finale. A meta treat for fans.
X-Files Before the truth was out there, David Duchovny (left)—then dating actress Robertson, who plays baby-voiced police secretary Lucy—made his television debut portraying trans FBI agent Denise Bryson.
Yamaguchi, Fumio The actor credited with playing Season 2's mysterious Japanese real estate investor "Mr. Tojamura" turned out to be a fake! All along, it was series regular Piper Laurie's believed-to-be-dead Catherine in full-on Mission: Impossible–level disguise. Had us fooled!
Zen It proved to be the preferred mental state of dogged crime fighter Agent Cooper, whether he was calmly dictating into his prized tape recorder or hanging upside down to meditate. Will he still be as cool 25 years later?
Twin Peaks, Series Return, Sunday, May 21, 9/8c, Showtime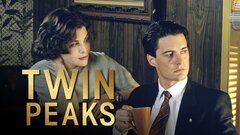 Powered by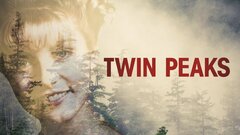 Powered by