Season 3 of 'Angie Tribeca' Promises Even More Guest Stars: 'Our Cups Just Raneth Over'
As a kid, Angie Tribeca showrunner Ira Ungerleider was brokenhearted when Police Squad!, ABC's 1982 cop spoof, was canceled after six episodes. Now, with his own cop spoof entering its third season, Ungerleider sees himself righting a kind of cosmic comedic wrong. "Yes, perhaps I'm trying to avenge the untimely death of Police Squad," he jokes.
See Also
Check out the new TBS series that spoofs popular crime procedurals.
Based on an idea from executive producers Steve and Nancy Carell, Angie resurrects a kind of slapstick, absurdist humor of sight gags and puns. This season, a parade of guest stars will assist Detective Tribeca (Rashida Jones, above, with Hayes MacArthur) in her search for a serial killer. "We wanted to play with the notion of a bad guy killing bad guys," Ungerleider says. Chris Pine plays a Hannibal Lecter type and Natalie Portman is the head of NASA mission control. Heather Graham and Michelle Dockery will also appear. Says Ungerleider, "Our cups just raneth over this season."
Angie Tribeca, Season Premiere, Monday, April 10, 10:30/9:30c, TBS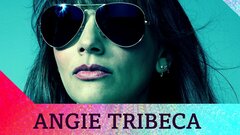 Powered by