The Americans' Holly Taylor Talks Paige's Big Moment
Spoilers from last night's episode of The Americans ahead.
The family that spies together lies together.
On The Americans last night, daughter Paige (Holly Taylor) demanded answers from her parents, Philip (Matthew Rhys) and Elizabeth (Keri Russell): What are they doing all the time? Why are they constantly running off to random places in the middle of the night? What the hell is going on?
To Paige's surprise, they actually answered, telling her they were from the Soviet Union and were in the business of acquiring information to help their people, which is quite the ingenious euphemism for "KGB spies." The revelation "was a really, really big shock for her," says the 17-year-old Taylor, who helped us unpack her character's pivotal moment.
When did executive producers Joe Weisberg and Joel Fields tell you Paige would learn the truth?
They actually didn't! I was just as shocked as everyone else. I read it in the script. I was not expecting it at all—the way it was placed in the episode, the way it was placed in the season… I was so excited when I read it, though.
What brought her to this breaking point, you think?
So much information had accumulated, even just since Season 2. And then doing research on Gregory, after her mom brought her to the ghetto and she saw into her mom's past with the Civil Rights movement, she actually has facts to back up why she feels so suspicious. "They can't just say no to me anymore. I need to know who my parents are." Because your parents are supposed to be the people you can trust in your life. The fact that she's always had this doubt with them, that's not normal for a 15-year-old girl to feel that way. But of course, if she's not getting any answers, she turns it around on herself and becomes paranoid. But now she has evidence she hasn't gotten the full story.
Did she have any inkling about the real truth?
I don't think she had any idea they were Russian spies. In that scene where she confronts them about it, she brings up so many different theories that seem kind of a far reach: Is she adopted? Are they aliens? Are they drug dealers like their friend Gregory? Which just shows how much she's thought this through—she can't even fathom what could be so bad that her parents would hide it from her for all these years. So to finally hear it is a relief, almost.
Almost.
She almost doesn't believe it, at first. "You're spies? Is that what you're seriously trying to tell me now?" She has such little trust in them at this point, it's hard to believe anything they say. She knows she has to believe it this time, now, and then there are all those emotions anyone would feel in that situation: anger, betrayal. Just totally distraught.
What's really terrible is that her parents have now put her in this completely impossible position: Ratting them out would destroy her life, yet not ratting them out goes against her morals.
That's why, when she talks to Pastor Tim on the phone, it's like a conversation with herself. It brings out this internal conflict. She considers telling Pastor Tim, because she feels safe with him and called him for comfort and to be brought back to reality. But she also just heard her dad tell her he and Elizabeth will go to jail for good if she tells anyone at all.
Is it easier or harder for her mom and dad to recruit her to be a sleeper agent, now that she knows? Do you think Paige would actually consider that?
Time will tell, for that. It's interesting, though, because it was Elizabeth who, throughout the whole season, was pushing to tell Paige and find a way for her to learn who hear parents really are. But when they sit down at the table, Elizabeth stutters and can't actually say it—it's Philip who has to tell Paige. It's not as easy as she thought it was going to be. But now Paige has to digest this. Once she does that, she'll have to figure out what she wants for herself.
Not saying this will happen, but do you want to play Sleeper Agent Paige?
Yes! Oh my gosh, yes. It would be so cool if Paige joined her parents and they were a team. Or even if she were part of the FBI or CIA and just gathered intel to relay to her parents. That would be awesome, and so much fun for me to play. I want to start learning martial arts and Russian.
Sort of like The Incredibles, but with Communism instead of super powers.
Exactly. Except for [little brother] Henry. He's shut out of all this, and that's really hard for Paige, to keep that from him and try to protect him at the same time.
And now Henry's spending all this time with FBI Agent Stan, who's over at the house a lot.
We even saw that in the episode, where he comes over and Paige realizes why he's there, and how messed up it is that her parents have befriended him.
The Americans, Wednesdays, 10/9c, FX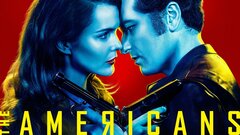 Powered by