'Suits' Counts Down to 100 Episodes
We've come a long way on Suits since Mike Ross (Patrick J. Adams) faked his way into Pearson Specter back in 2011, and since then, there have been so many great cases, so many amazing Harvey (Gabriel Macht) saves…so much flawlessness from Jessica (Gina Torres).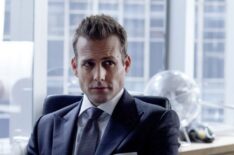 See Also
'It was time to sort of get back to some of the bromance...and the playful elements of the show,' says the man behind Harvey Specter.
And now, as the stylish and still so perfect series heads towards its seventh season this summer, USA has set up Suits Countdown to the 100th Episode, a digital destination for fans to experience the 100 best moments from the show's run so far. Launched on Monday, May 22, the site will unlock one new clip a day from the first six seasons, leading up to episode 100's airing on August 30.
So far, classic bits have included a sausage-scented Louis (Rick Hoffman) and the Season 3 exchange between Donna (Sarah Rafferty) and British annoyance Stephen Huntley (Max Beesley) that solidified her place in our hearts forever ("Donna…yeah, it's like a name and a title in one").
Check out the site and add your own two cents in the comments below about your own favorite Suits moments!
Suits, Season 7 premiere, Wednesday, July 12 at 9/8c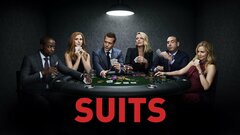 Suits
where to stream
Powered by