'Empire' Season 3 Finale: The Fall of a King (RECAP)
Toil and Trouble
Season 3 • Episode 18
It's the Season 3 finale of Empire and we're already starting off with a dead body from last week's episode. Leah (Leslie Uggams) shot and killed Tariq (Morocco Omari) right as he was about to tell Lucious (Terrence Howard) that the Dubois family had Bella.
Charlotte (guest star Eva Longoria) reminds Giuliana (guest star Nia Long) and Lucious about the night of Tupac's murder which started with a brawl inside the MGM Grand lobby. Her dad lost his job because of what happened and Charlotte doesn't want to follow in her dad's footsteps with allowing Inferno to open in Vegas.
Leah is up to something. She calls Anika (Grace Gealey) to tell her to pick up all her things from the house and that she has her mail waiting for her. Once Anika arrives, Leah tells Anika that she should open up the big envelope in her mail pile since it might be the divorce papers. She then tells her to open up the envelope with the letter opener.
Hold up! Anika knew that the Dubois family had Bella?
Hakeem (Bryshere Y. Gray) busts in on Anika inside the Dubois home, speaking with Diana (Phylicia Rashad). Bella is reunited with Hakeem as Diana tells him what price he has to pay for this quick visit with his daughter.
She wants Hakeem to tell his family that Bella is safe, back with Anika. He must then wait to hear from the Dubois family for his next step.
Oh snap! Lucious tells Giuliana off, saying Cookie (Taraji P. Henson) is the real love of his life. Giuliana gets escorted out of the club by security. Bye bye, Giuliana! Lucious says everything he did with Giuliana was for Cookie.
He must be telling the truth because Jamal (Jussie Smollett) performs Cookie's, When Cookie Met Lucious instead of Lucious' Inferno at the opening of Leviticus. Cookie better make sure to call off the plan with Shine (Xzibit).
I'm happy to see the Lyon family working together again but I know something is going to happen soon to ruin it all. Now Lucious is performing a song and serenading Cookie? Oh no! This is definitely going to end badly for someone because this is way too good to be true.
I cannot handle all this drama in one episode! At an open mic night at the Leviticus, Jamal started to fall for one of the singers. Turns out this man is one of the Dubois twins and Jamal fell for the bait.
And I thought the Lyons were a twisted family!
Leah was definitely up to something when she had Anika open the envelope with a sharp letter opener. She kills two birds with one stone when she calls Anika to let her know some more mail came for her. Anika falls for Leah's trap and tells her where she's staying.
What Anika doesn't know is that Leah has the police right in front of her as they're holding the letter opener, now covered in Tariq's blood, with Anika's fingerprints on it.
The police show up at Anika's hotel door and arrest her for Tariq's murder. Mama Walker is savage!
Lucious and Cookie have made a big decision together. They want to step down from their day-to-day work at Empire and Lucious hands over the keys to his office to Andre (Trai Byers). Lucious wants to travel the world with Cookie and that means stepping down from his throne.
Andre runs to Shine to try and call off the deal with the explosives planted in Lucious' car. Unfortunately, Shine has had enough with people not coming through on the plan. Andre runs to find his mom and dad to warn them but is too late.
Lucious has just enough time to push Cookie out of the way. He sacrifices himself for her as he's the one who takes on the explosion.
Three months later, Lucious is in a coma. Lucious' weird nurse (guest star Demi Moore) starts to put her hands all over Lucious with Cookie right next to her. I'm not sure what she was trying to do, other than start a fight with Cookie.
Just as they were about to leave, Jamal sees Lucious' eyes flutter. Lucious begins to open his eyes and sees his family standing around him.
Lucious seems confused once he starts to speak. His nurse tells Lucious that everything is okay and that his family is there with him. Still appearing confused, Lucious can only reply with asking who these people are in his room.
He must have hit his head hard with that explosion and now doesn't remember who anyone is. I don't think he even remembers who he is.
I knew something bad was going to happen. First it was the explosion and now Lucious can't remember anything. What does this mean for the Empire? Will Cookie and Lucious still get to travel the world together?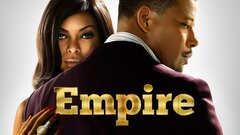 Empire
where to stream
Powered by