'Dirty Dancing' Star Colt Prattes: 'This Story, It's All of Our Stories'
As a kid growing up in rural Georgia, Colt Prattes watched Dirty Dancing with his stepmom whenever it appeared on TV, soaking in the soundtrack and admiring Patrick Swayze's badass cool. In time, Prattes realized that he, too, wanted to make a living as an entertainer, and Swayze—with his dancer background and tough-guy Hollywood persona—became his role model.
"When I found out Patrick Swayze had been a dancer, I was like, 'Oh, it's on.' Because he's Patrick Swayze. He's Road House. He's Point Break. He's Ghost!" Prattes tells TV Insider.
Prattes followed his dream out of Georgia, scoring work as a backup dancer in concerts and music videos and an occasional Broadway gig, but he asked his manager to keep her eyes open an opportunity to really test his acting chops. One day, his phone rang.
"She said, 'I know you don't want to sing and dance anymore but would you do it on film? Then she told me what the project was,'" Prattes recalls with a laugh. He was up for the role of Johnny Castle in ABC's reimagining of the 1987 classic, landing his very first movie role opposite Abigail Breslin, who plays Baby; Bruce Greenwood and Debra Messing as Baby's parents; Nicole Scherzinger as Johnny's pal Penny; and Katey Sagal as his married lover Vivian Pressman.
See Also
The cast of ABC's reimagined 'Dirty Dancing' gives the classic '80s film a musical lift.
TV Insider caught up with Prattes to talk Johnny, this Dancing's more somber storyline, bonding with his famous costars and, yes, that line and the lift.
This is a more serious take on the Dirty Dancing story, fleshing out some storylines and giving some secondary characters more substance. Was there some excitement among the cast that, while it does follow the original storyline fairly closely, this isn't a cookie-cutter version of the original?
Colt Prattes: Absolutely. [In our version] you get to find out so much more about who these people are and more important, why they are. Whenever I teach dance, the first thing I say in any of my classes is, "I don't care how you dance. I care why you dance. I don't want you to show me how good you are right now—I want to feel something." That's what I feel like this version gets to do. We have a little bit more time. We get to expand those stories. You get to find out more about the parents' relationships and see them more as the young people they were when they first fell in love and how that changes. I feel like this movie offers us one of my favorite things in the world, which is perspective.
See Also
Modern classics should be left alone. Reboot is NOT a requirement, TV execs!
By the same token, you and Abigail are about to become Baby and Johnny — and to a lot of people, Baby and Johnny are not to be messed with. Were there nerves?
Abby and I talked about it "and we never thought of it like taking up the mantle" or trying to do what they did. I feel like that would have been a huge disservice. Patrick Swayze is a legend. What he did in this movie created a classic. He and Jennifer, this whole film—there's nothing that I could have done to imitate or to better.
I wanted to approach it the same way that I felt that he did, which is just bringing as much of myself and my heart and my honesty and my story to it as I could. That's what Abby did, too. Honestly, I couldn't have done this with anybody else. Abby was and still is my friend, my partner. That's my girl. I knew I could trust her, but I also knew we could push each other. Together we got it all done.
Even though this film is its own thing, was it goose-bumpy to get to do some of those iconic scenes—the learning the lift scene and the lift itself, the watermelon scene, and, of course, "Nobody puts Baby in a corner"?
I can't even explain! The coolest thing about this movie is that rehearsing for this movie is essentially living this movie, you know what I mean? Abby had never danced before. I got to be a part of the team that taught her, and she worked so hard, and to do that lift every day? I'm smiling so big right now just thinking about doing that. It was hilarious, and it was so much fun.
I couldn't love that girl more. She worked so hard. When you're in the rehearsal studio and there's four people around and you're teaching the lift to someone who's never been lifted, which is a very scary thing, that is the movie. There's no cameras and that's when we are Baby and Johnny at the very beginning. It feels a little out of body.
The lift that you see in the film is the very first time that she had ever done that in front of everybody! I haven't seen it in a while, but I remember that feeling. I remember looking at her. That was by far the best moment of working on this film, watching her face when she came down from that lift — when she realized that she had done that.
This Johnny Castle also sings. And so do your costars…
Oh man, it was incredible to get to sing these songs, specifically, because this is my favorite era of music — the '60s, the doo-wop. That whole era is what's pretty much constantly playing on Pandora in my house. My mind still just can't really wrap around the fact that that's what I got to do. To sing these songs that were so iconic. I can't wait for viewers to hear it as well as see it because the voices … Abby, Nicole, Debra Messing, Bruce, J. Quinton Johnson who plays Marco. Their voices are so insane. Katey has a band, and I don't think a lot of people know this, but Bruce is a blues man. One of my favorite memories on set is he and I sat in the trailer and he played guitar and we just sang old blues songs. It was everything. And Debra breaks my heart with her performance.
Katey Sagal brings serious nuance to the Vivian Pressman role. What was it like to play that relationship with her?
When Katey walked on set, it wasn't even her — she was just her character. She's so beautiful and she's so sexual, that air she has, you know what I mean? It's control. I don't know if I have the right vocabulary to describe it.
When you're talking to Katey, she makes you feel like you're the only person anywhere at that moment. It's rare that you find people that give you their full attention. She's got power and that power makes you feel like you can give more and you have more to give.
Exciting to bring this story to a new generation of viewers in addition to putting a new spin on it for those of us who know it backward and forward?
It was awesome. I'm so happy that new generations get to see this, and I hope the people who've seen the original will appreciate the way that we did and love it and give that story room to breathe and allow it to be fresh and new. Because this story is a love story. It's a thousand love stories. This story, it's all of our stories.
Dirty Dancing, Wednesday, May 24, 8/7c, ABC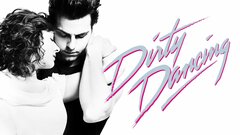 Powered by