Allison Tolman Admits She Isn't the Star of New Comedy 'Downward Dog'
Attention, all viewers with a soft spot for talking animals: ABC's new sitcom Downward Dog is not what it seems. Yes, the series revolves around an adorable pup named Martin—and his Pittsburgh-based owner, Nan, played by Allison Tolman (FX's Fargo)—who speaks via the magic of CGI animation, but what he says will surprise you. (Think: scathing judgments, existential crises and abandonment issues.) Here, Tolman offers a bite of what's to come.
What was your initial reaction to the premise?
My team and I had talked about what I was looking for in my next TV project, so when this came across my desk, I was like, "A talking-animal show? Well, this is a departure from our discussions." I assumed we'd hit a new low. But it's based on a series of web shorts, and after I watched those, I got really interested.
Martin (voiced by head writer Samm Hodges) has strong opinions about Nan's choices—like how she puts long hours into her career in advertising, or keeps hooking up with her slacker ex-boyfriend, Jason (Lucas Neff).
Martin is smart and selfish. He's definitely not thinking "BONE, BONE, BONE" all the time. The dog they cast to play him, Ned, couldn't have been better. He's not a tail-wagger; he's solemn, and he stares at you balefully with these big, beautiful eyes. I harbor no delusions about who will be the audience's favorite—he really is the star. At least he's terrible in interviews. [Laughs]
Do you think your Fargo fans will follow you to this?
I'm hoping! It's quite a departure. As a character, Nan is much closer to my personality than Molly was—and there's no Minnesota accent. Fargo was a drama that was funny, and this is a comedy that's quite serious. Ideally, people will get what we're trying to do within the first five minutes and tell their friends to watch. And their pets—which is the most important audience, obviously!
Downward Dog, Series Premiere, Wednesday, May 17, 9:30/8:30c, ABC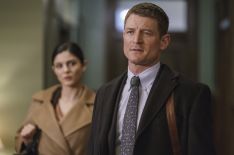 See Also
Here's when your favorite network TV series are having their season finales, along with their renewal status — or their predicted fate.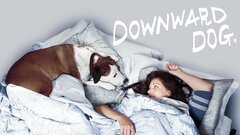 Powered by