Jon Stewart Announces Retirement from The Daily Show (UPDATED)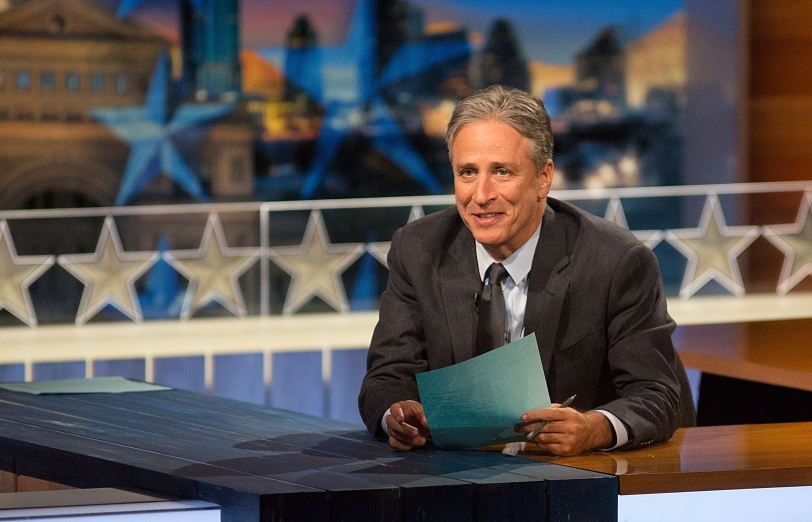 (Updated throughout with quotes from Tuesday night's episode of The Daily Show) Another shoe has dropped in the world of late-night television. Jon Stewart shocked his audience at the Tuesday taping of The Daily Show, announcing that he would retire later this year.
Stewart — whose contract expires this year — said an exit plan hasn't been finalized. "We're working out the details," he said on the show. "I'm up in September. It might be around then, might be December, might be July… I don't have any specific plans. I've got a lot of ideas, a lot of things in my head. I'm going to have a dinner, on a school night, with my family — who I have heard, from multiple sources, are lovely people."
Stewart has hosted The Daily Show since 1999. The news comes as a blow to Comedy Central, which just lost another late-night superstar, The Colbert Report's Stephen Colbert, last year. The Daily Show remains a potent force in its daypart among young adults, and Comedy Central will have several months to craft a transition plan (if one isn't already in place) before Stewart departs.
"For the better part of the last two decades, I have had the incredible honor and privilege of working with Jon Stewart," said Michele Ganeless, President, Comedy Central. "His comedic brilliance is second to none. Jon has been at the heart of Comedy Central, championing and nurturing the best talent in the industry, in front of and behind the camera. Through his unique voice and vision, The Daily Show has become a cultural touchstone for millions of fans and an unparalleled platform for political comedy that will endure for years to come. Jon will remain at the helm of The Daily Show until later this year. He is a comic genius, generous with his time and talent, and will always be a part of the Comedy Central family."
Stewart thanked Ganeless and Viacom Entertainment Group president Doug Herzog for giving him "an incredible opportunity 17 years ago to pilot this wonderful franchise. 17 years is the longest I have ever in my life held a job, by 16 years and five months. The upshot there being, I am a terrible employee. But in my heart I know it is time for someone else to have that opportunity."
That means that by later this year, ABC's Jimmy Kimmel Live (which launched in 2003) will be the longest-running late night talk show with the same host. The past two years has seen a wholesale change elsewhere in late night, with new hosts at NBC's Tonight Show (Jimmy Fallon) and Late Night (Seth Meyers) and new hosts about to take over CBS' Late Show (as Colbert replaces David Letterman this fall) and The Late Late Show (where next month James Corden replaces the chair left vacant by Craig Ferguson). Larry Wilmore also just recently took over for Colbert at Comedy Central, launching The Nightly Show last month.
Comedy Central could see a savings in talent costs, however. In 2013, we reported that Stewart now earns between $25-30 million a year, according to several sources. That put Stewart ahead of the two late night titans at the time: Jay Leno and David Letterman.
The Daily Show originally launched in July 1996 with host Craig Kilborn, who left at the end of 1998 to take over for Tom Snyder at CBS' Late Late Show. That opened the door for Stewart, who had previously hosted a show at MTV and a syndicated talk show for Paramount. After Stewart took over in January 1999, the show took on a new direction, with more bite and political/social commentary. Stewart and The Daily Show were rewarded with 18 Primetime Emmy Awards.
Under Stewart's watch, The Daily Show also made superstars out of Colbert, who went on to host the companion The Colbert Report; Steve Carell, who moved on to The Office and a feature film career; and John Oliver, who now hosts Last Week Tonight at HBO.
Oliver landed the HBO gig after making a big impression as The Daily Show's guest host for much of summer 2013, as Stewart filmed the feature Rosewater.
Stewart's announcement isn't a complete surprise. While doing press for Rosewater last fall, Stewart was candid about the possibility of exiting The Daily Show: "This could be scoop time. Spoiler alert. My mind-set is, this definitely ain't forever, that's for sure," he told USA Today. At the same time, he told Fresh Air's Terry Gross, "I think there are moments when you realize that that's not enough anymore, or maybe it's time for some discomfort." These comments led to a round of speculation in the media last November that Stewart might be ready to leave the show, particularly as his contract expires this year.
On Tuesday night's Daily Show, Stewart expanded on that sentiment. "I'm not going anywhere tomorrow," he said. "But this show doesn't deserve an even slightly restless host, and neither do you. I don't think I'm going to miss being on television every day. I'm going to miss coming here every day. I love the people here. They are the best — they are creative and collaborative and kind. I love them, and respect them so much."
Comedy Central isn't commenting beyond the statement the channel released from Ganeless. But the question of who might replace Stewart will now become the next Hollywood parlour game. The obvious choice, Oliver, just launched season two of his critically acclaimed HBO show. But Comedy Central isn't short on talent; the channel has built up quite a stable of stars in recent years. Is it too much to ask for The Daily Show with Key and Peele? Or Amy Schumer?
Whomever gets the job will step in right as the 2016 presidential campaign gets underway — perhaps a natural time for a transition.
"It's been an absolute privilege," Stewart told his audience. "It's been the honor of my professional life. I thank you for watching it, for hate-watching it — whatever reason you were tuning in. You get in this business with the idea that maybe you have a point of view and something to express, and to receive feedback from that is the greatest feeling you can ask for, and I thank you."