'Fear the Walking Dead' Renewed for Season 4
Fear is clearly alive and well at AMC.
After a much-improved second season—and a little more than a month before Season 3's premiere—Fear the Walking Dead has been renewed for a fourth season by AMC. However, showrunner Dave Erickson will be replaced by former Once Upon a Time executive producerss Ian Goldberg and Andrew Chambliss, while TWD mothership boss Scott Gimple is slated to join as an EP as well.
Set before the ratings monster that is The Walking Dead, this prequel about the early days of the outbreak stars Kim Dickens, Cliff Curtis and, thanks to the second season's sea-set storyline, swimming zombies. And like the show that spun it off, FTWD will come with an after-show hosted by Chris Hardwick because he doesn't have anything else to do.
Fear the Walking Dead, season premiere June 4, 9/8, AMC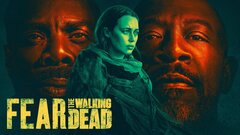 Powered by