'Scandal': 6 Surprising Moments From the 100th Episode
[Spoiler Alert: Do not read ahead unless you've watched this week's episode of Scandal.]
Would the world have been better if Olivia Pope (Kerry Washington) had never helped rig the election that put Fitz (Tony Goldwyn) in the Oval Office on ABC's long-running Scandal?
As the 100th episode began Thursday night, Olivia, Fitz and Jake (Scott Foley) are trying to figure out what to do in the aftermath of Huck (Guillermo Diaz) almost dying and how they can get Cyrus (Jeff Perry) in the White House. Do they use their powers to fix another outcome like Olivia helped do with Fitz or was that the biggest mistake ever?
See Also
The torrid drama of Fitz and Olivia dominates the fantasy-like proceedings of the 100th episode of 'Scandal'.
The 100th episode was full of surprises, faces from the past and a fun, twisty, sometimes shocking look at how things would have played different. Here are six things that blew us away.
A Not-So-Perfect Relationship: After Fitz has lost the election and Olivia (now living in California) almost went on a date with Leo Bergen (Paul Adelstein, who doesn't appear in the episode) Fitz shows up unexpectedly on her door and tells her he has left Mellie (Bellamy Young) and wants to marry Olivia. The wedding happens, they end up living in D.C. and everything seems perfect. Over time, Olivia's ambition conflicts with Fitz's drinking and their relationship falls apart. (But they end back together by the end of the episode. Yay!)
Cyrus in the closet: Cyrus and James (Dan Bucatinsky) are seeing each other, but Cyrus is still in the closet. How deep in the closet? So deep he ends up marrying Mellie, who is on the rebound after her marriage to Fitz ends. Seeing Mellie kiss Cyrus?! WOW! It's only later when they're mocking Fitz and his talk show, The Grant Report (yes, Fitz has a political talk show!) that Cyrus gets the idea that Mellie should run for the office of the president. Mellie hires someone from the press to help with her campaign – James! Of course she overhears James and Cyrus talking and puts two and two together. However, they stay married together even if Mellie knows Cyrus is gay since he convinces her it can work.
Huck has hair. A lot of hair. Olivia and Huck clearly have the same close relationship as he walks her down the aisle in her wedding to Fitz. Huck seems emotionally fragile like he was in the earlier seasons of the series but he's still the one who ends up giving Olivia away during her wedding to Fitz. (We see Papa Pope in the back of the church, unseen by everybody.)
Quinn is Lindsey D: Quinn is on a Bachelor-type show called The Prince (as Lindsey D, the name we knew her by when the show first began, remember?) and is seen gushing on the show about wanting to be chosen by the Prince. Huck is watching excitedly as Lindsey (Katie Lowes) is progressing in the competition. We later see her on The Grant Report and besides having over 2 million Instagram followers and being infinitely lighter than the killer Quinn we know, she also has no problem going for what she wants and she and Fitz make out after his talk show and, after she begins performing another act on him, he kicks her out of the room.
More, More, More: Abby (Darby Stanchfield) and David (Joshua Malina) are together, Samuel Reston (Tom Amandes) becomes President after Fitz loses and Daniel Douglas (Jack Coleman, only seen in photos/newspaper) still is outed for being gay while married to presidential candidate Sally Langston (Kate Burton). We also see Papa Pope involved with Cyrus as they chart Mellie's run for president.
Back To Reality: By the end of the episode, after everything that happened in her mind, Olivia tells Fitz "I'm in." Now we shall see how they're going to clear Cyrus's name once and for all and get him in the White House over Mellie. The rest of this season is going to be goooooood!
Scandal, Thursdays, 9/8c, ABC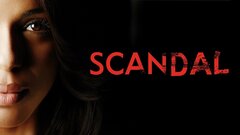 Scandal
where to stream
Powered by