Olivia and Fitz Head Up a 'Fantasy Hour' for the 100th Episode of 'Scandal'
Up is down. Shonda Rhimes will celebrate the 100th episode of her shock-a-minute Beltway hit Scandal with a fantasy hour that torches the very premise of the series. As viewers know, Fitzgerald Grant (Tony Goldwyn, above) became president of the United States only after his lover and fixer-in-chief Olivia Pope (Kerry Washington) helped rig the election in the key state of Ohio. But, in the topsy-turvy 100th, that dirty deed didn't happen after all, and Fitz lost his bid for the White House. There's no end to the ripple effect.
"Each character on Scandal has been defined by Olivia's decision to commit that crime," Goldwyn says. "Now we find out what would have happened to everyone if she hadn't fixed the votes. But this is not some light, whimsical 'What if?' It's dark and it's complicated. When the cast sat down for the script reading, we were super excited, and also pretty stunned."
See Also
The cast of the hot TGIT show celebrated its 100th episode this weekend in West Hollywood.
In this alternate reality, there are astonishing couplings and wild career twists, with Fitz ending up in a high-profile job currently held by one of the show's most cutthroat characters. And his relationship with Olivia? "The state of their romance is not something viewers will ever see coming," teases Goldwyn. "I don't think Fitz or Olivia could have predicted it either."
But then, that's Scandal. "Looking back on our other 99 episodes, it's all been pretty extreme," Goldwyn notes. "Fitz has somehow survived a fraudulent presidency, an assassination attempt, losing Olivia, who was the love of his life, and the murder of his son by Olivia's father!" Even more outrageous is how often Rhimes has beaten reality to the punch. "She'll push our stories to the absolute looniest place possible—and the next thing we know, that looney place is actually happening in the real world," Goldwyn says. "Her ability to forecast the future is delicious. It's also a little frightening!"
Check out a preview of Scandal's 100th episode, "The Decision":
Scandal 100th Episode, Thursday, April 13, 9/8c, ABC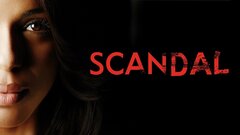 Scandal
where to stream
Powered by