Steven Weber on His 'NCIS: New Orleans' Baddie: 'Things Are Going to Get Quite Heated'
Need a TV vet who's guaranteed to upgrade whatever show he's in? Former Wings star Steven Weber (above) is your man—especially if he's playing the twinkly-eyed villain (witness some recent memorably lean-and-mean turns on iZombie and How to Get Away With Murder). His current gig: portraying NCIS: New Orleans' corrupt Mayor Hamilton, who's about to toss Agent Pride (Scott Bakula) and his team the kind of wicked wild cards that will keep them busy for the rest of the season. We talked to Weber about breaking bad.
When Mayor Hamilton debuted on NCIS: New Orleans in 2014, he wasn't that terrible. Did you expect him to turn? I assumed he was the quintessential New Orleans politician, with his finger in a lot of pies, some of which were nefarious. But it was a logical progression that he be truly bad, because he and Pride are opposite sides of the same coin. They're also old acquaintances who go back decades. Things are going to get quite heated between them.
What makes their relationship so volatile? It just bugs Pride that Hamilton is so slippery. Pride is determined to get rid of him. However, Pride also knows it's better to keep him in power in order to retain a semblance of structure in the government. Once you take him away, you let loose a plethora of horror.
See Also
'The Big Bang Theory,' 'NCIS,' 'MacGyver' and 'Hawaii Five-0' also among the series that will return.
Did you intend to play so many villains over the years? It can be a lot of fun. Recently I said to my shrink, "Why am I playing all these d–kheads?" She replied, "Better to play it than be it." I was like, "Yeah, I guess you're right!"
Your father, Stuart, was a talent agent to various Borscht Belt comedians in the 1950s and '60s. What was that like? We were a lower-middle-class New York family, but there was always an air of a Rat Pack feel to our lives. There was cigarettes and booze. I would go to clubs with my father and witness the dark underbelly of showbiz. But I also got to experience the thrill of watching people perform. It wasn't an average upbringing, but it was certainly interesting, and it probably set me on my path.
NCIS: New Orleans, Tuesdays, 10/9c, CBS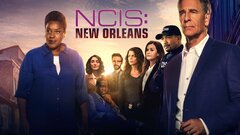 Powered by