Q&A: Two and a Half Men's Chuck Lorre on Reaching Out to Charlie Sheen, Bringing Back Angus T. Jones and That Finale Ending
As Two and a Half Men came to a close Thursday night, co-creator Chuck Lorre got the last laugh.
Well, at least until he was smashed by a piano.
The CBS comedy ended its 12-year run with a Charlie Sheen look-alike—with his back to the camera—being pummeled by a falling piano. The camera pulled back to reveal Lorre on the Two and a Half Men stage, as he uttered the catchphrase made famous by Sheen after being fired from the show: "Winning!"
And then, a second piano pancaked Lorre. Cue credits.
CBS, Lorre and Warner Bros. TV had been coy in recent months about whether Sheen would make a cameo in the finale, and in the end he did – sort of. The actual Sheen was nowhere to be found, but besides the look-alike, a lengthy animated segment featured Sheen's likeness, as the show's lothario Charlie Harper—previously presumed dead on the show—turned out to be alive.
An hour after the episode wrapped on the East Coast, Lorre told us that the reunion with Sheen almost really happened. He said the show reached out to Sheen a month ago about making an appearance in the finale.
"There was so much really earnest and heartfelt demand from the fans of the show to have some kind of closure," Lorre said in a phone interview Thursday night. "When we found a way that we felt was workable and appropriate, we reached out to him a month ago and pitched it out to him. He didn't like it, and he pitched his alternative and we didn't like that. We shook hands and went our separate ways… It was not meant to be."
The possibility of a Sheen cameo took on a new life after we wrote in September that the actor wanted to return. "We're trying to figure out what makes the most sense," Sheen told us then. "If they figure it out like I've presented it to them and they want to include me in some final send-off, I'm available and I'm showing up early."
But as Lorre wrote on his vanity card (flashed at the end of the show), the two sides couldn't come to an agreement on what the appearance would be.
"Our idea was to have him walk up to the front door in the last scene, ring the doorbell, then turn, look directly into the camera and go off on a maniacal rant about the dangers of drug abuse," Lorre wrote on the card. "He would then explain that these dangers only applied to average people. That he was far from average. He was a ninja warrior from Mars. He was invincible. And then we would drop a piano on him. We thought it was funny. He didn't. Instead, he wanted us to write a heart warming scene that would set up his return to primetime TV in a new sitcom called The Harpers starring him and Jon Cryer."
Such a homecoming seemed unlikely after Sheen's 2011 exit, having been fired after taking inflammatory shots at Lorre and CBS, and then suing them and Warner Bros. TV. But Lorre says he was willing to put all that aside for the sake of the show: "We certainly understood there was a demand for that and I didn't want to get in the way of that."
Even though Sheen didn't show up, the Two and a Half Men finale was all about his character, Charlie Harper, who was seemingly killed off in the show's fall 2011 opener.
But it turned out Charlie wasn't dead after all: His stalker wife Rose (Melanie Lynskey) had faked his death in Paris after catching him in bed with a French maid and a goat. For the past four years, she had kept him locked in a dungeon in the basement of her house in Sherman Oaks – "the good part, south of the Boulevard."
But then Charlie escaped – and started leaving threatening text messages with Alan (Jon Cryer) and Walden (Ashton Kutcher). The roommates reported the threats to a police lieutenant, played by Arnold Schwarzenegger, and the police eventually caught Charlie—or so they thought. But the guy they arrested was Christian Slater, playing himself, in a bowling shirt.
Meanwhile, another former Two and a Half Men regular did make a big return. Angus T. Jones—who left the series in 2013 after criticizing it as "filth"—was back one last time as half-man (now all grown up) Jake, who had just won millions of dollars in Las Vegas because he was playing games that sounded dirty, like "craps."
"It's amazing you made so much money with such stupid jokes," said Walden—as the actors all broke the fourth wall, turning to the camera with a knowing glance.
Much of the show's final hours included self-referential jokes like that, both about the show and Sheen. When it appeared that Charlie might be back, Berta (Conchata Ferrell) even had an idea on how to keep the show going: "Alan, if you move out and Charlie stays here with Walden, I believe that we can keep this going for another five years!"
In one scene, Walden read an angry text from Charlie: "I will carve my initials into your reptilian skull and cover you in tiger's blood"— a riff on things Sheen actually said after his 2011 exit.
When Schwarzenegger's character asked Alan about Charlie's mysterious exit, Alan alluded to Sheen's departure: "It wasn't all that mysterious. He was taking a lot of drugs and pissed off almost everybody."
Schwarzenegger also asked if Charlie Harper had "tried anger management" (a reference to Sheen's follow-up series, FX's Anger Management). Quipped Alan: "Yeah, but it didn't work."
Schwarzenegger then suggested it was time for Alan and Walden to end their unusual living arrangement. "This whole thing has been going on way too long." Shot back Alan: "Yeah, a lot of people have been saying that."
Other guest stars included John Stamos (also playing himself), who was sleeping with Walden's ex-wife Bridget (Judy Greer). The show also featured many other actresses who were a part on the show through the years, including Courtney Thorne-Smith, Marin Hinkle, April Bowlby, Sophie Winkleman and Amber Tamblyn.
Here's a transcript of our conversation with Lorre:
TV INSIDER: You killed Charlie, but then you killed yourself. How did you come up with this ending?
Lorre: It felt like an appropriate way to bring things to an end. Nobody gets off this show alive.
TV INSIDER: Let's talk about the vanity card, where you explain what happened with the Charlie Sheen cameo that wasn't. Did you really reach out to him?
Lorre: It's all real. For the very reason so many people have expressed a desire to get some closure for the series. There was so much really earnest and heartfelt demand from the fans of the show to have some kind of closure. And so when we found a way that we felt was workable and appropriate, we reached out to him a month ago and pitched it out to him. He didn't like it, and he pitched his alternative and he didn't like that. We shook hands and went our separate ways. We certainly understood there was a demand for that and I didn't want to get in the way of that. I was hoping we could make it happen. We thought we had a chance for him to speak into the camera and have the last few minutes of the show entirely to himself. And then just let all hell break loose and start dropping pianos out of the sky. It was not meant to be.
TV INSIDER: It had seemed that you, CBS and Warner Bros. had moved on from Charlie. Talk about the decision to revisit the character.
Lorre: The show exists on two planes. It's a sitcom on CBS and it's this weird, strange, tabloid-swirling craziness attached to the show. It didn't seem possible to do a finale if we didn't acknowledge both of those realms.
TV INSIDER: You also brought back Angus T. Jones. Was it easy to get him back?
Lorre: That was an absolute blast. We had a great opportunity to put him in this. We reached out to him, he's in college now, and he jumped on it. We had so much fun that week; it was so much fun working with him again. He's a terrific guy. When he stepped on to the stage, the place went nuts. It was a great moment, a funny and warm moment for everyone on the show.
TV INSIDER: He had also publicly grappled with his conflicting feels about the show. Have you guys made peace with that?
Lorre: We've put that behind us along time ago.
TV INSIDER: You made a lot of self-referential jokes in the finale. Talk about the decision to break the fourth wall and have some fun with the finale.
Lorre: There didn't seem to be any reason to follow a rulebook. The fourth wall on Two and a Half Men has always been a little flimsy, given all the tabloid elements. Why not just knock it down and explode it when it was appropriate and funny. Make the finale not only about the show, but about how we all feel about the show and how the show is perceived, both positive and negative. Why pretend we're in a bubble? We're very well aware of them. We were hit by them, we were hurt by them, and here we still are. We were never going to do a finale where we found out who married the mother or what happened on the Lost island. That's not what the show was about.
TV INSIDER: How did Arnold Schwarzenegger come in?
Lorre: I thought it would be terrific to have an iconic, powerful, authoritative voice and have that person tell us the story of Two and a Half Men in as dry and as deadpan a way as possible. One of the first things we discussed was Arnold Schwarzenegger, and he jumped on it. It was one of the coolest days of my career. He was at ease with making fun of himself. And then Christian Slater, the two of them together, it was a hilarious afternoon. Everyone we approached for the finale was eager to participate.
TV INSIDER: It seems like where you left the show, life continues as is for Walden and Alan now.
Lorre: The idea that they have to disband in the end was one of the things that I felt we didn't have to do. Why do they have to shake hands and part ways? What represents closure for a TV series? The rulebook is everyone parts and goes their separate way. I thought that wasn't really necessary.
TV INSIDER: What was that final taping like?
Lorre: There was a lot of hugging. And a sense of suspension of disbelief. It's kind of hard after 12 years to come to grips with the idea that this is actually over. I keep walking by the stage and walking inside and seeing the sets being struck. The sets have been up for 12 years. It's kind of hard to understand and emotionally connect that it's done. My favorite memory from the final night was at the curtain call. I gave Jon Cryer a hug and he said, "Well, we did this." And that struck me as the most powerful way to sum this up. We did this. It's a part of our life now.
Here's a look at Lorre's final Two and a Half Men vanity card: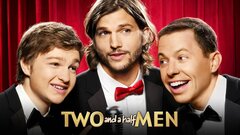 Powered by