'Rick and Morty' Season 3 Gets Surprise Premiere
After a wait of a year and a half… or longer, Rick and Morty returned for its Season 3 premiere Saturday night. Adult Swim pulled off what the Twitterverse dubbed a reverse April Fool's Day gag by streaming the first episode of the season on Adultswim.com without warning, and airing the episode instead of its regularly schedule lineup from 8pm to midnight.
New Episode of RICK AND MORTY airing NOW thru MIDNIGHT (ET/PT) and ONLINE at https://t.co/BhAmA6Q4wH. pic.twitter.com/PwQX7WJQhW

— Rick (((and Morty))) (@RickandMorty) April 2, 2017
The premiere, which picks up shortly after Rick's imprisonment by the Galactic Federation, guest stars Nathan Fillion as a smooth interrogator attempting to learn Rick's secrets by exploring his past. Meanwhile, Summer and Morty revisit some of the nastier present-day side effects of Rick's adventures.
Series co-creator Dan Harmon, who has dealt with a fair amount of grief from fans of the show on social media as the Season 3 premiere release window has been repeatedly pushed back since late 2016, was quick to take to Twitter to revel in the premiere's surprise reveal. The remaining 13 episodes of Rick and Morty Season 3 are scheduled to air in the summer of 2017.
.@karan_shah99 happy now mother FUCKA pic.twitter.com/nhUY4K90G5

— Dan Harmon (@danharmon) April 2, 2017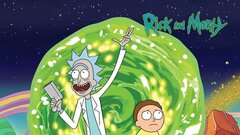 Powered by