'The Mick' Makes a Scene at Ben's School (VIDEO)
Lesson of the day: Among the myriad things Kaitlin Olson does hilariously well, unhinged and misguided outrage is definitely in the top 99th percentile. And it is on full, glorious display when The Mick's Mickey reads the principal at little Ben Pemberton's private school for filth in Tuesday's episode.
See Also
'All of us at Fox had enormous faith in 'The Mick,' and it hasn't disappointed,' says Fox's David Madden of the pickup.
Wild-eyed and wickedly fired-up, Olson's Mickey goes in on the guy for what she perceives to be discrimination against her adorable nephew (Jack Stanton), citing the school's failure to turn the other Pemberton kids into anything close to upstanding citizens. Granted, she's spot-on with that assessment (the episode also features a brilliantly written scene that calls out their rampant white privilege), but Mickey may want to re-examine how she expresses her indignation, since she seems to make the matter much worse with her diatribe. Olson, on the other hand, only makes things better with her caustic comic charms. Agree? Let us know after the clip!
The Mick, Tuesdays, 8:31/7:31c, Fox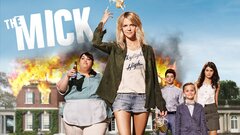 Powered by