Roush Review: John Lithgow Guilty of Scene-Stealing in 'Trial & Error'
If there's any TV genre ripe for parody, it's the true-crime chronicle, which may be even more ubiquitous these days than the overused mock-documentary format employed by NBC's promising new comedy Trial & Error. In this case, form amplifies content as the just-the-facts framework keeps colliding with ludicrously wacky twists that might make even your neighborhood Investigation Discovery addict look twice.
This deeply silly sitcom may be guilty of overplaying its hand to score cheap laughs, especially at the expense of Southern-yokel stereotypes and running gags that quickly run out of gas. But with the glorious John Lithgow at its center as Larry Henderson, a befuddled murder suspect whose impulsively inappropriate statements and actions make him look guiltier by the scene, it's wise to recuse oneself from delivering a verdict too quickly.
See Also
Riding high on his scene-stealing triumph in 'The Crown,' Lithgow returns to NBC (after 16 years!) with a brand-new comedy.
Larry had me from the moment he interrupts his own 9-1-1 call reporting his wife's death to speak to the cable guy on the other line. Later, lamenting the wrong flowers laid at his late wife's grave, Larry sputters, "Getting murdered, then tulips, I don't know what's worse."
Nicholas D'Agosto (Gotham) is sheepishly charming as Josh Segal, the untried "Northeastern" (South Carolina code for Jewish) lawyer brought in to handle Larry's seemingly hopeless case. He's the Newhart-like center of sanity in a world of cracked crackers, and D'Agosto's priceless reactions to Lithgow's blithe madness make up for many an error in the show's comic judgment. These include the overly broad nincompoops assigned to Josh's legal team, including Steven Boyer (Broadway's Hand to God) as a hapless investigator whose high pitch of dimwitted hysteria makes Don Knotts' immortal Barney Fife look like a wallflower. His name is Dwayne Reed, a pun on a drugstore chain that isn't really all that funny even on first hearing.
Sherri Shepherd has somewhat better luck as Josh's cheerfully vapid assistant, Anne Flatch, who exhibits numerous bizarre afflictions including facial amnesia. This shtick wears out its welcome fairly soon, but Shepherd sells each tic with unfailing charm. The show also tries to milk physical humor out of the law office's proximity to a taxidermist, but even a gag involving a giant stuffed bear can't upstage the marvel that is Lithgow, who won three Emmys on the same network for 3rd Rock From the Sun. A likely Emmy contender again for his tremendous performance as Winston Churchill in Netflix's The Crown, he so effortlessly walks off with this goofy trifle that you may well wonder if there's anything this versatile star can't do.

Trial & Error, Series Premiere, Tuesday, March 14, 10/9c, NBC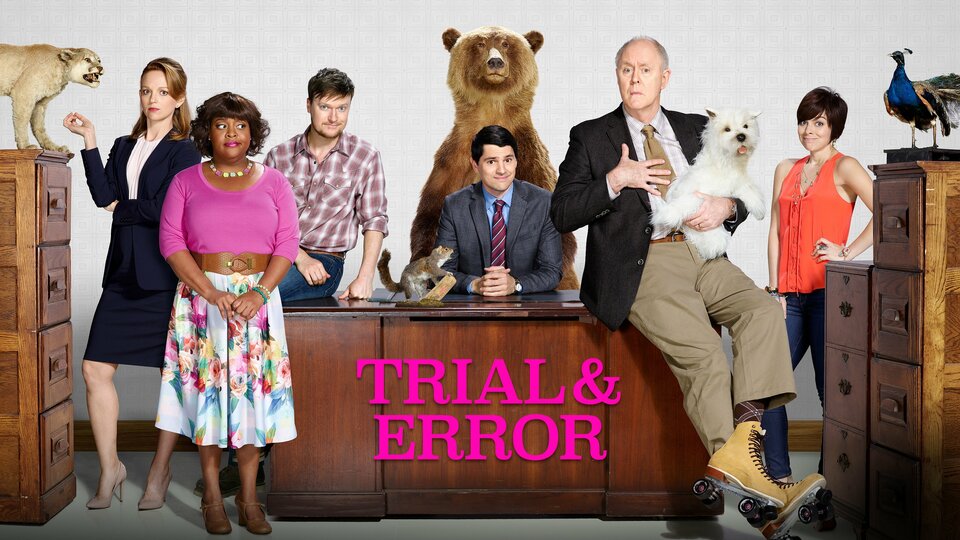 Powered by