John Lithgow on His Roller-Skating (and Possibly Murderous) Poet in the Comedy 'Trial & Error'
After his Screen Actors Guild Award–winning turn as Winston Churchill in Netflix's The Crown, John Lithgow ventures back to the half-hour format with Trial & Error, a fish-out-of-water comedy employing the mockumentary style that ignited NBC hits like The Office and Parks and Recreation. This time, though, there's an intriguing twist: The show is a send-up of red-hot true-crime series (think HBO's The Jinx and SundanceTV's The Staircase) and will focus on a different murder case each season for maximum comic effect. For its inaugural go-round, Lithgow plays Larry Henderson, an eccentric, roller-skating small-town poet accused of murdering his wife.
In this exclusive interview, the indefatigable 71-year-old actor talks about cresting the true-crime wave, the importance of adding heart to comedy and the real reason he cannot recite any of the secret poetry he wrote on set.
What makes the quirky Larry Henderson tick? He's a lot like a couple of other comedy parts I've played, including Dick Solomon from 3rd Rock From the Sun. He's all id and impulse. Serious things and totally trivial things have exactly the same importance to him. All of his quirks stem from that quality.
Why do you think there haven't been more true-crime mockumentaries? I just don't think anybody's thought of it yet. You know, the big breakthrough was [the podcast] Serial and The Staircase, which spurred the imagination of [cocreator] Jeff Astrof when he created the premise. The Jinx and Making a Murderer—they're a fairly recent phenomenon. It was only a matter of time before someone satirized them. But I do think we are the first.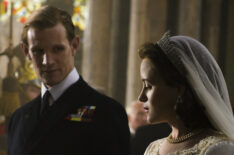 See Also
An exclusive featurette shows cast, writer and director talking about the acclaimed drama.
You've primarily done dramatic roles in the past few years—like the 2014 film Love Is Strange [with Alfred Molina] and The Crown. What's it like returning to this kind of light TV comedy? Oh, it's wonderful. I mean, the real fun of acting is changing gears and upending people's expectations just as they get used to you in one role.
Did you find yourself longing to do comedy while you were acting in those dramatic roles? Well, I find ways of being comic, for sure. If there's any comic relief at all in The Crown, it's Winston Churchill! And I always think it's wonderful to add extremely heartfelt moments to ridiculous comedy and moments of comedy to things that are deeply serious. Because that's what life is like. You will hear people talk about nothing but how silly and hilarious Trial & Error is but, in fact, there are moments that are genuinely touching. Larry feels things very deeply. After all, he's a poet—probably a pretty bad poet.
See Also
Relive the best moments or catch up for the first time! We pick our favorite shows of the year. Plus: Where to watch them now
You're a bestselling children's author as well as an actor, so tell us: Is Larry's work any good? No, I suspect he's probably a terrible poet. [Laughs] You never hear any of his poetry, thank God. But here's a little inside secret: In these long courtroom scenes, I idly write poems.
Would you recite any of them? No, I won't, because they're dirty. I wrote dirty limericks about all the members of the cast, and I did a dramatic reading of them after my last shot.
Did you have to learn to roller-skate for this part? I tried. [Laughs] But they had fantastic stunt doubles, and the insurance company would not allow me to skate even if I wanted to!
Trial & Error, Series Premiere, Tuesday, March 14, 10/9c, NBC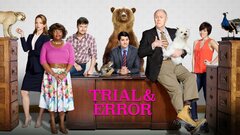 Powered by