[SPOILER] Killed Wes! Let's Talk About That Wild 'How to Get Away With Murder' Season 3 Finale
[Spoiler Alert: Do not read ahead unless you've watched the Season 3 finale of How to Get Away With Murder. You've been warned!]
Did you see that reveal coming on How to Get Away With Murder?
We saw in the last hour of the Season 3 finale that the person who actually killed Wes wasn't any of his law students/colleagues, or Annalise (Viola Davis), Frank (Charlie Weber), Bonnie (Liza Weil) or even Nate (Billy Brown). Instead, it was some unnamed character we hadn't seen before (played by Nicholas Gonzalez), who seemed to be working with dirty District Attorney Denver (Benito Martinez).
At the end of the episode, Laurel (Karla Souza) was about to exact some revenge on Charles Mahoney (Wilson Bethel), who she was sure killed Wes (in the episode, though, it was revealed that Wes was Charles' son, and the grandson of Wallace Mahoney, who was gunned down in last season's finale). However, just as Laurel was about to do the deed, she literally ran into that unnamed character, who turned out to be a family friend of Laurel's named Dominick (Gonzalez). Through a series of quick flashbacks, we see that Dominick was acting on orders not from Denver but from Laurel's father (Esai Morales), who was never a fan of his daughter being involved with Wes and went to great lengths to get Wes out of the picture.
While that reveal only brought up more questions (which will surely fuel the start of Season 4 later this year), Souza talked to TV Insider about Laurel's actions in the finale, her love for Wes and how she felt about that big reveal.
Such an intense finale! Good stuff for you, and it all definitely bodes well for Laurel in Season 4.
Karla Souza: I know, right? I mean, at least fun stuff for me, but really sh***y stuff for Laurel. She's now not only dealing with the grief of losing Wes and the pregnancy, but now she's going to have to deal with the fact that her father had something to do with killing Wes. That's going to be a very strong point in Season 4, and I can't wait to see what revelations of my family and the reasons behind that are.
In the finale, there's a great moment where Laurel does hear the baby's heartbeat. What do you think Laurel is thinking at that time? Is she excited about this baby? Is she horrified?
It's all of the above. She's excited. She's terrified. She's never had this experience before in her life, and all these thoughts are hitting her, but I also feel like it's all she has left of Wes. It's going to be a really interesting storyline to see how they deal with the pregnancy, how Laurel feels then, and what actually happens in the decision she makes. We'll see how Pete [Nowalk, executive producer] does that.
There's a line in the episode where Laurel says, "I didn't know I loved Wes until it was too late." What does that line mean for her?
The first and only time she said "I love you" was by mistake, on the phone. She never really had the chance to tell Wes how she felt about him. In that respect, it's a really bittersweet line that I think we can all relate to. People who've lost people realize how it's sometimes too late and you feel like you never had enough time to tell people how you felt about them.
How would you say the love she had for Wes differed from the love—if it was love—with Frank?
The relationship with Wes was more about two minds alike meeting in the sense of they were best friends. She was always looking out for him. And it's sort of a friendship that then turned romantic, whereas with Frank it was always this passionate, tumultuous relationship where then it grew to be more of a normal, mature relationship, but it still kept that sort of fiery passion, so that's how I would say they differ.
Annalise says to the group that everything she's done, she's done for them. Should we believe her? Do you think Laurel believes her? Do we believe anything that comes out of her mouth?
Laurel knows a little bit more about Annalise than the rest of them, and I think that's why this season she's sort of ballsier with her and she's able to really confront her. But I do sense that Annalise, deep down inside, does see us as her children and she sort of kept them under her wing.
Why does Laurel trust Michaela and Asher enough to tell them her plan regarding Charles Mahoney?
I don't think she trusts them. I think she's just using them in a way. She's, again, desperate for answers. She's desperate for the truth, so she pushes them into a plan in order to get Charles to tell them the truth of the situation of whether he was to blame for Wes' death. So, I think instead of them really being in on it, I think they're just coming along on something that hadn't really been explained fully. Laurel's just sort of using them to get to the truth so she'll get to the truth in any way, shape, or form, and because she wants to avenge, and she wants to have the truth in order to be at peace. I feel like, unfortunately, Asher and Michaela happen to be of use to her, so I think that's what's happening there.
At the point where she's walking towards Mahoney with the gun, do you think she's thinking clearly, or are emotions just ruling her at this point?
It's a full, amped-up, adrenaline-pumping moment of all is lost. I don't think it was her intention to shoot him, but it might have been her intention to confront him, and when things maybe got messy, she might've pulled the trigger, and that's what's so scary about that point when you've seen someone in grief with a gun in their hand. Anything can happen, but I think she had a plan in place.
How did you react when you read the finale script? I know I was surprised!
I don't know whether this is just because maybe I already knew, but somewhere in my mind I had an idea of how we can bring my father back into this whole situation. I remember Pete and I, at some point, were discussing the options, and I don't know whether it was him or whether it was me, but I was like, "Oh, well maybe my father had something do with it" or something like that. I never thought it would be what he actually said, like, "Kill Wes." Then Dominick appearing like a childhood friend. I don't even know how Laurel's going to react to that, but I think it's just gonna make it for a very character-driven Season 4, so I'm excited about that.
How to Get Away With Murder will return for Season 4 later this year.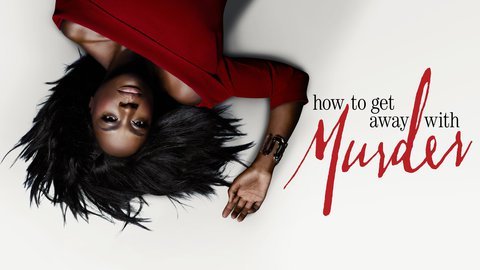 Powered by