First Look: 'Timeless' Ends First Season With Shock and Awe
NBC's time-traveling adventure Timeless ends its first season in 1954, smack in the middle of the so-called Red Scare fomented by over-zealous anti-communist senator Joseph McCarthy.
That's when a once-in-a-generation meeting of the nefarious Rittenhouse group's leaders takes place—you can guess where McCarthy fits in—so there's no doubt that Garcia Flynn (Goran Visnjic) will be there to try and destroy—i.e. murder—the cabal once and for all. Where Flynn goes, so goes the time-traveling historian Lucy Preston (Abaigail Spencer) and her posse to keep him from inexorably changing America's history.
Pictured: (l-r) Claudia Doumit as Jiya, Malcolm Barrett as Rufus Carlin
"Lucy agrees with Flynn that Rittenhouse has to be stopped," says executive producer Shawn Ryan. "Her arc is how to find another way to do it." [Especially since her Rittenhouse grandfather will quite possibly be in attendance.] "Lucy rises to the challenge in the episode finding another way to accomplish that without the torching of history that Flynn has been doing," he adds."We're quite proud that she has stepped outside of the cycle of violence and uses her formidable intelligence to figure out a solution that hopefully has a chance of working."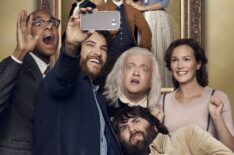 See Also
The star and creators of Fox's time-travel comedy mess with the past.
To help those chances, Lucy will have to team up with some unexpected allies. Both Lucy and Flynn will be affected by the events in unexpected ways, as will another member of the good guys team. "It's going to be a hell of a cliff-hanger," teases Timeless creator and executive producer Eric Kripke. "We want to blow our viewers' minds heading into the summer."
Here's an exclusive video clip of the finale episode:
Timeless, Season finale, Monday, February 20, 10/9c, NBC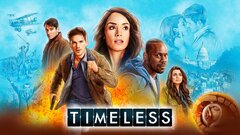 Powered by