Travel Back in Time With Adam Pally on 'Making History'
Time travel is all the rage on TV today, but unlike the heroics of Timeless and Legends of Tomorrow, Fox's Making History is more about serving laughs than saving lives. And we're counting the days down to March 5th when it actually premieres.
Until then, we have this 2-minute primer on the new comedy starring Adam Pally (Happy Endings and a thousand independent films) as a less-than-suave computer-science prof at a Massachusetts college who's been using a time-portal duffel bag to bounce between modern day and the 1700s…where he's kind of a big deal. So big, in fact, that he's won over Paul Revere's daughter (Gossip Girl's Leighton Meester).
Here, Pally and the show's creators Phil Lord and Chris Miller—the guys who gave us The LEGO Movie!—explain why Dan is the man with the colonial crowd, where else he's headed and what his trips through time have done to change mankind (hint: we're still a mess).
Making History, series premiere Sunday, March 5, 8:30/7:30c, Fox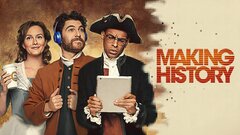 Powered by