Dead Man's Party: 'Gotham' Falls Prey to Jerome's Mad Plan in Winter Finale
It's the night the lights went out in Gotham, and Jerome Valeska is taking full advantage of that.
"This episode is sort of the climax of every storyline on the show up until this point, especially for Jerome, who really steps into the idea of being a showman," explains Cameron Monaghan, who plays Valeska, of the hour that caps Jerome's three-part return from the dead. "We see him kidnap Bruce Wayne (David Mazouz)—since that was the last thing he was doing before he died—and takes him on this twisted kind of carnival ride of death and murder."
Having blown up a power plant at the end of last week's episode, the city is "brought to its knees" by Jerome's devoted followers in Monday's episode, continues Monaghan. "We're seeing an escalation of the violence in Gotham to a level its never seen before…there's a lot of casualties. But Jerome sees killing Bruce as the cap to all the other festivities that have been part of his big resurrection party that he's throwing for the city."
RELATED: Gotham: What Will Jerome Look Like After His Deep Freeze?
Since we know that Bruce clearly lives to become the Caped Crusader, the carnage of tonight's episode will instead serve to inspire Lil Wayne. "This is a forceful propulsion of Bruce becoming a man," previews Monaghan. "He sees things that will change him for the rest of [his life.] We see the formation of the ideas and philosophies that we all know and love about the character of Batman.
"In many ways, Jerome coming back from the dead was his own coming-of age," laughs the actor. "And now Jerome's party is this twisted bar mitzvah for Bruce!"
Fittingly, the episode—which Monaghan calls a "a major point in the series" that also features "great stuff for Penguin and Nygma"—serves as a cliffhanger for the show's upcoming break (it's off until May 1 to make room for 24: Legacy). And from the sounds of it, they've pulled out all the stops to send it off with a bang.
"This is the most ambitious the show has ever been, and thankfully, DC Comics, Warner Bros, Fox, the writers, producers, everyone was willing to take the chance and go for this ride," raves Monaghan. "We have a huge location set piece, a couple hundred extras…nothing on television looks like this show. They really do a great job of making the show look and feel like a page directly out of a comic."
So, did the man behind the proto-Joker's ghoulish grin bid his final farewell to the cast and crew after wrapping this arc? Just the idea makes Monaghan laugh. "I think I said 'until next time.'"
Gotham, Mondays, 8/7c, Fox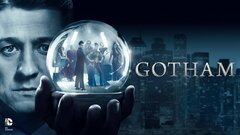 Gotham
where to stream
Powered by