Jerome Valeska Is Back on 'Gotham' and It's No Joking Matter
Wait 'til Gotham gets a load of Jerome Valeska now! Shameless' Cameron Monaghan is back to bring more madness to the drama's Mad City story with a three-episode arc that sees the howling maniac rising from the dead and really embracing his ties to the Clown Prince of Crime. How has he returned? How wicked will he be this time? We chatted with the actor about Jerome 2.0 and from the sounds of it, he is no laughing matter for Jim Gordon and company.
OK, so how are they handling coming and bringing this guy back?
It's really exciting. I have so much fun with this time with him and what's really interesting about this is that obviously the character is in some way in reference to the Joker and we've never before had a live-action TV adaptation of the character [where we] get to actually see a development of this guy. We see what he would be like coming back from the dead, how he would change and how it would turn him darker…he has a different perspective and a grander sensibility of the chaos that he wants to bring down to the city, which is really fun to be able to explore.
Is his resurrection tied to Indian Hill?
Obviously there's been technology developed by Hugo Strange that is capable of resurrecting the dead and last season, we saw Jerome kind of popularizing it and sermonizing the benefits of chaos and this idea that there's an escape from the boring nature of life by embracing destruction and by burning it all down. After he died, that planted the seed of this idea that has then spread through Gotham, you saw that cult of anarchists…
Right!
He's become a cult personality and these guys worship him as a sort of messiah. They become fascinated with the idea of resurrecting their religious idol, and so what we see is them trying to do that. Without spoiling anything obviously, I think since I'm doing the interview…[Laughs]
Obviously they're successful! You say Jerome comes back a little wilder, probably a little more dangerous, which is terrifying since he started off really messed up.
[Laughs] I know! With this character, we're referencing the Joker in his many incarnations and one thing I really admire about him, being a big fan of the Batman mythology, is how he has a very versatile personality. He has different personas and he can shift depending on the tone of the story being told. So as the show has kind of escalated the stakes and Gotham has drifted towards a darker, more desperate state, he's reflective of that. He still has that energy and the mania that we like about him, but he's matured. When he comes back from the dead, he's clearly nastier. Before, you wouldn't want to be in the same room with this guy. Now, you don't want to be on the same earth as this guy! [Laughs]
What is his first order of business?
I can say this. I don't think it's really a spoiler, but when he was last alive, he was trying to kill Bruce Wayne [David Mazouz]. He was trying to kill Bruce Wayne, he had him on stage and then Theo Galavan [James Frain] killed him. So when he rises, he has a bit of that memory and obviously priority number one would be to pick up exactly where he left off.
And since this is somebody who's already dead, killing Jerome again is probably off the table?
Well…not only is his ideology something that cannot be exterminated and has spread like cockroaches, you know, he himself is extremely durable. And as hateful and terrible as he is, you have to admire his ability for perseverance throughout this story. [
Laughs
] It's kind of the defining feature in the Joker myth, this idea that this character is unstoppable. He's the immovable object to Batman's unstoppable force. He can come back from pretty much any sort of physical damage. The idea of death doesn't necessarily stop him and we kind of play with that really in some ways, especially towards playing with the arc, that I think is going to catch people off guard.
https://www.instagram.com/p/BOV0f8khJIy/?taken-by=cameronmonaghan&hl=en
https://www.instagram.com/p/BPN5WHlhS_t/?taken-by=cameronmonaghan&hl=en
You Instagrammed a couple teases about Jerome's return and it looks like they have leaned in to the idea of The Joker of it all. Did you help with the make-up or the garish costumes or anything like that?
Yeah, from the very beginning, I worked pretty intimately with the production starting from the ground up. I talked to the producers and the head writers so I had a good idea of what was going to be going on with the story and I contributed a couple of thoughts. From there, [we've] been talking through pretty much every aspect. Hair, make-up, wardrobe, kind of crafting the idea of what we want to do with the character this season. I had more active involvement than I've had in the past, which has been a really, really great opportunity. Specifically with the make-up. We've done something really cool, something that's referential to the comics that has never been done before on screen. Then we've added our own unique touches to it as well…it entails 3 hours of make-up in the morning.
Can you liken this version to any of the comic book versions?
Not specifically one comic version. I mean, since I've been playing this role for three years, I've really been able to take the time to research pretty much every aspect of this character. I've hunted down every single issue of the comics involving the Joker that I could find and I've gained a somewhat encyclopedic knowledge of him. One of the things that immediately jumped out when I got the scripts was the great homages paid to some of the most classic Joker stories, including "The Killing Joke" and "The Dark Knight Returns." There's also references to the New 52 Joker as well, specifically the "Death of the Family" storyline. I think that fans are going to immediately pick up on them and are going to be really excited about these references.
Gotham, Mondays, 8/7c, Fox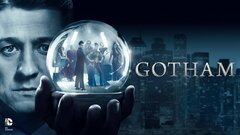 Gotham
where to stream
Powered by