'24: Legacy': New Heroes, New Villains, Same Heart-Stopping Action
Actor Corey Hawkins stares intently at a video monitor, riveted as his costars Jimmy Smits and Miranda Otto film a charged exchange for an upcoming episode of Fox's 24: Legacy. Hawkins (Straight Outta Compton) has finished his scenes for the day, but he's transfixed by the sequence being shot on the show's Atlanta set. When the actors nail the intended emotion, the star pumps his fist excitedly, expressing his joy to the crew.
Soon all eyes will be on Hawkins. After eight seasons, a TV movie and an event series, Legacy is the first version of 24 without Kiefer Sutherland's Jack Bauer (last seen being escorted to a Russian prison in 2014's 24: Live Another Day). Legacy follows Eric Carter (Hawkins), a former Army Ranger who participated in a deadly raid—spearheaded by Counter Terrorism Unit Director Rebecca Ingram (Otto)—that took out terrorist leader Ibrahim Bin-Khalid. Once home, Eric attempts to move on with his life; six months later, he learns that most of the Rangers on his team have been murdered, and a loose thread from the mission could endanger people around the world.
Executive producer Manny Coto was inspired by the Navy SEALs who killed Osama bin Laden and the struggles they had in the months following their raid. After discussions with his fellow producers, they realized the story would work well in 24's real-time format and was a perfect opportunity to return to that universe (the whole season unfolds over one day). "What could be more appropriate for a day and an age in the television business when everyone is looking for a story that has urgency? That's built-in with this format," says Dana Walden, chairman and CEO of Fox Television Group. The drama is being given prime real estate, debuting after the Super Bowl on February 5 (it then moves to its regular timeslot, Mondays, 8/7c, on February 6). "It took a while for the pressure to settle in," says executive producer Evan Katz. "This is our baby. We'll do everything we can to make it as good as possible."
RELATED: New 24: Legacy Promo Reveals First Look at Tony's Return, Gerald McRaney's Henry Donovan (VIDEO)
Viewers need not have watched the original to jump in to the new series. 24: Legacy is set in the Washington, D.C., area; Jack Bauer worked in Los Angeles's Counter Terrorism Unit. But longtime fans will appreciate a few connections between both: CTU analyst Mariana Stiles (Coral Peña) is a cousin of late tech whiz Edgar (Louis Lombardi); the CTU offices feature a wall of stars honoring familiar fallen agents; and former agent turned bad guy Tony Almeida (Carlos Bernard) pops up later in the season. Sutherland, now starring on ABC's Designated Survivor, is also an executive producer on the spinoff. "He is somebody who doesn't give his blessing easily to things," executive producer Howard Gordon acknowledges. "He really does think about it." Hawkins appreciates that Sutherland has given him space to create his own hero, "passing the torch that way instead of saying, 'That's not how I did it.'"
When it came time to craft a new lead, "the pressure is obviously to differentiate the character from Jack Bauer and find someone who is fresh and interesting," Coto says. "That's where Corey comes in: a great actor who has energy, warmth and drive."
Hawkins, a fan of the original, was initially skeptical of taking on the challenge. "My first thought was to run in the other direction," he says. "But I remember reading the script and thinking, 'I have to.' Beyond the fun it would be to be an action hero was the responsibility of playing a character who looks like me, who was flawed, patriotic, human, emotional and volatile—all those characteristics you want in a television hero. I didn't get to see that growing up."
Action sequences will of course be a key part of Legacy. "When we first started gearing up, I was working on Kong: Skull Island. That had military guys on it, so I got to train with them," Hawkins says. "My respect just went through the roof." The actor has done the bulk of his own stunts—"slowed down," he laughs, "but they put me through it"—and leans on the show's tech advisers to not "make me a liar. We're really going for it in terms of the stunts, fighting and action."
Anna Diop, who plays Eric's nurse wife, Nicole, gets her own chance to kick butt when the danger gets close to home. "She's taking this huge risk to save herself and her husband," Diop says. "It made sense to me she would do that, because these are the kinds of women I've grown up with." Though the couple has had rough times since Eric returned home, "they're very much in love," she says. "But they have incredible obstacles, which only intensify as the day goes on." To protect Nicole, Eric reunites with his estranged brother, Isaac (Ashley Thomas)—a drug trafficker and Nicole's ex-boyfriend. "There's so much love involved, but so much hurt and pain," Thomas says.
As Eric's world starts to derail, he leans on CTU Director Ingram to stay alive. However, her priorities are divided: She's on the cusp of leaving CTU to support her husband, Sen. John Donovan (Smits), during his presidential campaign. "I think for people who work in intelligence, it's a life calling," says Otto, whose last TV role was as villainous Allison Carr on Homeland. "You might retire, but I don't know if you can ever be standing in a room and not be thinking of threats or be aware of everything that is going on."
RELATED: 3 Things Every Fan Should Know About 24: Legacy
While Ingram struggles with new CTU Director Keith Mullins (Teddy Sears), she trusts communications analyst Andy Shalowitz (Dan Bucatinsky) to help her. "I like playing someone who is so efficient," Bucatinsky (Scandal) says. "He has a personality where he wears his emotions, fear, sarcasm, rage, frustrations on his sleeve. That's very similar to me."
For Smits, who has starred on iconic shows like L.A. Law and NYPD Blue, taking the role of Donovan was a leap of faith given the character's limited role in the pilot. But after a chat (and cigars) with Coto and Katz, he was convinced. "I love the fact that they have very proactive women and the landscape in this version is very diverse," Smits says. "It feels like how this country is in a lot of ways. They talked about a high-powered political couple in Washington and wanting to explore that in the framework of this genre piece." Additionally, Donovan's father, Henry (Gerald McRaney), plays a key role in trying to get his son elected. Teases Smits: "It's going to be an exploration of familial trust and what happens when that goes south."
With such a big cast, some of the series regulars have yet to share a scene, but their bond is apparent. The actors frequently have dinner together after work; Bucatinsky and Sears are roommates; and they constantly text on group chains. During production of the pilot, Smits, who wrapped his part on the first day, came to the set later in the week for Hawkins's first scenes. "Jimmy drove out to be there for Corey, who he had just met," Katz recalls. "It was touching." Adds Smits, "When you know the crew is behind you—not just the physical crew, but your group—it might mean something."
Of course, on a show that isn't shy about killing characters, the cast is aware their time could be limited. "We sat down for the first reading and it was like the Last Supper," Otto says with a laugh. "'Who is going to get knifed first?'" Whoever is left standing, the producers want to tell Carter's story for a long time. "In many ways, we're telling an origin story of the birth of a CTU agent," Gordon says. "I hope we get to see that come to pass." Saving the world, one day at a time.
24: Legacy, Series Premiere Sunday, Feb. 5, After the Super Bowl, Fox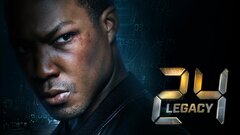 Powered by