'Scandal': 5 Important Things to Remember Ahead of the Season 6 Premiere
TGIT is back and with it comes the long-awaited return of Scandal.
Last season, just like any season of Scandal, things were as explosive as ever.  But seeing as how it has been eight months since we've seen our Gladiators, we'll forgive you if you don't remember how we left Olivia Pope (Kerry Washington) and company. Never fear, TV Insider is here (in a beautiful white trench coat, natch) to help.
Here are 5 helpful reminders (GIFs included!) of what went down in Season 5 of Scandal.
1. Olivia bludgeoned the former Vice President to death.

After Olivia discovers that Andrew Nichols was responsible for her kidnapping in Season 4 she loses control—with a metal chair conveniently nearby.
RELATED: A New Scandal Shonda Rhimes Promises a More "Optimistic" Season 6
2. Cyrus Beene is announced as presidential candidate Francisco Vargas' running mate.

The nefarious, yet lovable, former campaign manager and White House staffer made a bold decision by adding his name to the squeaky clean liberal candidate's ballot. But Cyrus (Jeff Perry) always has an ulterior motive so it was no real surprise.
3. Olivia saved Jake in an unconventional way.
After he married Vanessa to gain access to her father's fortune, it is revealed that Jake (Scott Foley) had done so on Rowan's behalf—which is never good. The only way out of the mess was for Jake to join Mellie Grant's (Bellamy Young) bid for president, as her VP.
4. President Grant learns that Olivia had an abortion.

The scandal! Yes, Olivia had an abortion after she discovered she was pregnant with Fitz's baby, but she never told him. Then, after he found out, they never fully discussed it.
5. Eli Pope was defeated. Or was he?

Papa Pope (Joe Morton) is decidedly the bad-guy of this politically centered drama and he loves it. But at the end of Season 5 it wasn't entirely clear if he had (finally) been defeated by Olivia's commandeering of Jake, or elated to find out his apple, Olivia, didn't fall too far from the family tree.
Scandal, Season premiere, Thursday, January 26, 9/8c, ABC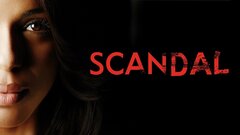 Powered by