A New 'Scandal'? Shonda Rhimes Promises a More 'Optimistic' Season 6
It's election night on Scandal's Season 6 premiere, with just minutes to go before the final polls close. And the tension is off the charts. Will the nation's new president be the former first lady, Republican Mellie Grant (Bellamy Young), plagued by alcoholism, depression and a hot-mess marriage? Or will voters go for Democrat Francisco Vargas (Ricardo Chavira) and make him the first Latino to win the White House? But the biggest question of all: How can creator Shonda Rhimes—known for her startling plot twists—possibly top the insanity of real-world politics?
RELATED: Donald Trumps Shonda: TGIT Premieres Postponed
It won't be easy. "We've had to recalibrate our story quite a bit, based on the outcome of the [Trump–Clinton] race," Rhimes says. "A lot of what we had planned felt too close to reality. In fact, this season was spinning toward a reveal that the Russian government was destabilizing the American government by messing with the election. When [news of the DNC hacking broke], we all sat in the writers' room with our heads down, feeling lost."
But Rhimes rethought and rebounded. "Given the mood of the country these days, we moved on to something more optimistic," she says. "I wanted to make sure we told a story that felt good."
But good for whom is the question. Young hints that the election episode is "very sobering for Mellie. It's explosive and catastrophic." But that doesn't necessarily mean she loses. "Mellie has been planning on being president since she was in diapers," notes Young. "She had a gentleman's agreement with her husband, Fitz [Tony Goldwyn]—eight years in the White House for you and eight years for me. Now she's on the precipice of achieving that, but nothing can ever match the dream. And if she wins, at what price?"
Should Mellie fail in her bid for the Oval Office, it'll be a rare political disaster for Olivia Pope (Kerry Washington), who is managing the campaign. But it won't be for a lack of camaraderie between the women (despite Olivia's years-long affair with Fitz). "The relationship between Mellie and Olivia is one of my favorite things about Scandal," says Washington. "Plus, I just love Bellamy Young. If she was the only actor I got to work with for the rest of my life, I'd be totally good with that. It's fascinating how much our characters have in common—beyond their love for Fitz and despite being pitted against each other for so many years." But let's not kid ourselves. Olivia wants back in the White House. "She's like a moth drawn to a flame," Washington says. "More than anything, our show is about the seduction of power."
RELATED: Scandal Elects a New President: Will It Be Mellie?
Among the most susceptible: Olivia's ex-lover Jake (Scott Foley), on the ticket as Mellie's vice president. "Jake wasn't thrilled when he agreed to run," Foley says. "All he wanted was a life with Olivia in a little house with a picket fence. And Olivia was like, 'Shut up, you idiot! Take this opportunity!'" Still, Foley claims Jake would make a "damn good" VP and an even greater POTUS. "Jake could absolutely run the country if something awful were to happen to Mellie…like a mental breakdown, maybe," says the actor, adding with a laugh, "and then Olivia can say she's been in bed with two presidents!"
As for Fitz, "Everyone will miss him when he leaves office, but he's still evolving as a human being," Rhimes says. "The man never really wanted to be president. Who will he be without these women, this job, this power?" But let's not get ahead of ourselves. "Scandal has a lot of ground to cover between Election Night and Inauguration Day," cautions Rhimes. "Fitz remains our president."
Scandal, Season Premiere Thursday, Jan. 26, 9/8c, ABC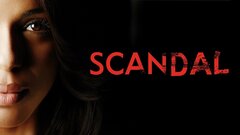 Scandal
where to stream
Powered by