Nightwatch: Dick Wolf's Latest Crime Drama 'Doesn't Have Filters'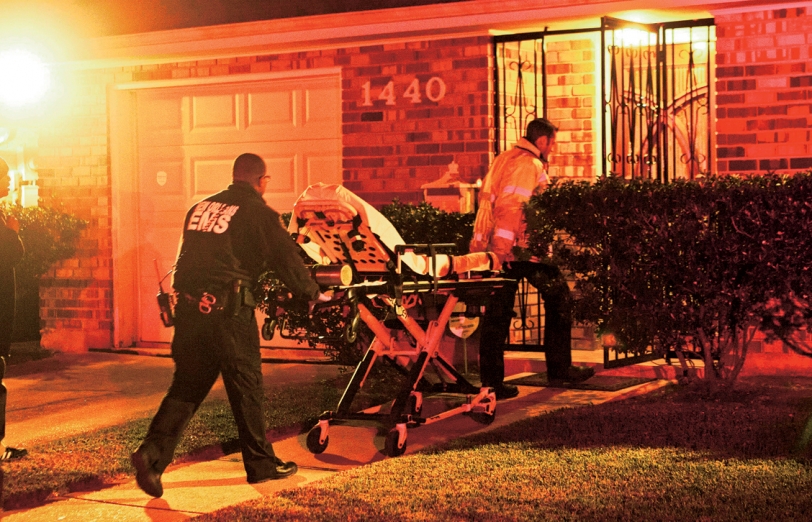 Dick Wolf follows up his TNT reality hit Cold Justice–about a former prosecutor and former crime scene investigator tackling unsolved murders–with A&E's Nightwatch, a nine-episode series starting January 22 and centering on graveyard-shift first responders in New Orleans. Fans of the producer's scripted series Chicago Fire and Chicago P.D. will be familiar with cops, firefighters, and EMTs working together, but this time, the struggles to save the victims of arson, shootings, and stabbings are very real.
"We want to focus on what happens to a city after most of us go to bed," says executive producer Rasha Drachkovitch, whose crew spent more than four months riding in cop cars, fire trucks, and ambulances. "And in New Orleans, when the lights go out, trouble really starts. You can't make up some of the off-the-charts stuff that happens. These first responders truly see life and death every day."
The emotional toll of the jobs is illustrated in the premiere episode, when a teenage boy is shot multiple times. It's a sadly commonplace event in a beleaguered city with a soaring crime rate and up to 1,000 distress calls to 911 each night. The fight to save the young man's life is both harrowing and desperate as two EMTs–tough, tattooed Holly and her more emotional partner, Gavin–try to get him to the ER alive. "You see the most vulnerable time of a person's life," says Drachkovitch. Sometimes it's also the last moments of that life. "Our show doesn't have filters," he emphasizes. "It's always honest."
Nightwatch, Thursdays, 10/9c, A&E
It's fitting that Mad Men, one of the leading shows in modern television's "golden age," also represents why we're now in something of a golden age of TV opening credits, in which title sequences perfectly capture a show's essence. Moving beyond simple montages of scenes from the series, they're now more creative, thoughtful and scene-setting than ever before. From the catchy, hilarious Unbreakable Kimmy Schmidt to the epic, sweeping Game of Thrones intros, we examine television's current batch of groundbreaking openings.
Game of Thrones
Who doesn't feel ready for battle when the triumphant music—composed by Ramin Djawadi—starts each Sunday? The Game of Thrones intro takes viewers on a full-scale tour of the sprawling world of Westeros; the animated map created by the magicians at The Rock Paper Scissors group adjusts based on each episode's storylines. It's all computer-generated, but so detailed that the 3-D imagery could be actual wood and steel. Much like the show (which returns April 12), it's complicated, visually gorgeous and unlike anything else on television.
Unbreakable Kimmy Schmidt
Is there a catchier, more joy-inducing theme song out there right now than the auto-tuned and oddly empowering ("Females are strong as hell") set-up from Netflix's hit Unbreakable Kimmy Schmidt? Of course not. The Gregory Brothers, best known for their viral Songify the News videos, created the opening credit ear-worm (which stems from an auto-tune gag from the pilot.) The song has earned the love of fans, but it also sets up the show as a quirky, sunny, of-the-moment comedy built on a base of girl power. (Fun fact: It coincidentally shares footage with the title sequence for The Americans.)
True Detective
Season 1 of HBO's True Detective was a gritty, dark, addictive saga, and the same could be said for its opening credits. Splicing images of leading men Matthew McConaughey and Woody Harrelson with unsettling Americana, the Emmy-winning title sequence (which was created by production studio Elastic and set to the song "Far From Any Road" by The Handsome Family) truly established the tone of the series. Just as cinephiles look forward to David Fincher's opening titles and scores, fans will likely be eager to see what Season 2's opening credits will hold.
The Affair
What happens when a show's opening sequence is better than the very show it's introducing? While the Showtime's The Affair series is, at times, sexy and thrilling and haunting, the opening credits are all that and then some. That's all thanks to the intoxicating sounds of Fiona Apple (seriously, she should sing every TV show's theme song) and the serene, intriguing visuals that—like the show's main characters—take us from the beach to the bedroom. Apple's "Container" was produced specifically for the show, and each week hearing only a little over a minute of it never feels like enough. "If our show can approach one tenth of the depth and complexity of her song, I'll be very happy," executive producer Sarah Treem said before the fall premiere.
Orange is the New Black
Like The Affair, Orange is the New Black has a famous indie singer-songwriter kick things off with the perfect original song—in this case, the unique sounds of Regina Spektor. The rapidly paced, toe-tapping credits don't show images of the talented and versatile OITNB ensemble; rather, they take the bolder approach of featuring the unvarnished close-ups of real women who had been in prison, sans makeup and pretense. It's a pretty daring and ballsy move that celebrates women of diverse backgrounds—but then again, so does the show itself.
BoJack Horseman
Who knew the opening credits for an animated series about a washed-up actor (who also happens to be a horse) could be so damn inspired? It certainly helps when you've got a stylish directing approach and the theme song is written by Patrick Carney of The Black Keys. BoJack Horseman strangely existential humor makes it an underrated gem, and the same could be said for these trippy, perfectly moody opening credits.
The Jinx
Masterfully set to the haunting sounds of Eel's "Fresh Blood," this cool and creepy opener shows real-life footage mixed with the show's chilling re-enactments of the alleged crimes of Robert Durst. The Jinx mixed a true story and documentary investigation with some of the tools of narrative television; the opener sets the unsettling mood and raises more questions than it answers. (Still, nothing could have prepared us for that ending.)
Better Call Saul
The title sequence of Better Call Saul, like its predecessor Breaking Bad, does a whole lot with a little. Set to a twangy guitar and looking as scuzzy and cheap as Jimmy McGill (Bob Odenkirk) and his cohorts, the grainy, cheesy images are the antithesis of the visual feast of carefully crafted credits on other prestige shows. That shittiness is intentional, say co-creators Peter Gould and Vince Gilligan in an interview with HitFix. And it's proof that there's no single right way to create a show's opener.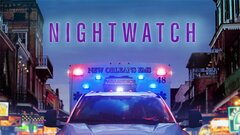 Powered by