Unbreakable Kimmy Schmidt's Hidden Gems: The Jokes You May Have Missed
When Tina Fey's Emmy-winning comedy 30 Rock was on the air, it may have broken the land speed record for jokes-per-minute. (In fact, it was reported that the series could average 9.57 jokes per minute.) Fey's latest series, the Netflix hit Unbeakable Kimmy Schmidt, could very well give 30 Rock a run for its money in terms of rapid fire gags. While the first season of the delightful ensemble series—which stars Ellie Kemper, Tituss Burgess, Jane Krakowski, and Carol Kane—already has some instantly classic bits, like the catchy opening credits and the even catchier "Pinot Noir," there's some under-the-radar laughs fans may have missed. We've gone though, episode by episode, and picked out some of the show's best hidden gems and the clever one-liners you could have laughed over the first time around.
Episode 1: "Kimmy Goes Outside!"
Best One-Off One-Liner: During an interview with Matt Lauer on the Today Show, one of the mole women says "Thank you, Bryant" after their introduction.
Best Kimmy-ism: "I haven't had a clock since my Tomagachi died."
Best Titus-ism: "I envy you, I've never been able to meet me."
Best Title: Richard Wayne Gary Wayne – Senior Prophet and CFO of Savior Rick's Spooky Church of the Scary-pocalypse
Best Sight Gag: Cindy's gift for Kimmy, a stitching of the world, is made up of Canada, USA, Mexico, South America, London, China, Africa, Japan, and Australia.
Second Best Sight Gag: The Central Park horse that Kimmy freed earlier in the episode later runs by her when she's outside of a club.
Episode 2: "Kimmy Gets a Job!"
Kimmy's Best Alternate Names for Xanthippe: Sanpippy, Xanadu
Jacqueline's Best Alternative Name of Kimmy: "Cornmo?"
Best Jacqueline-ism: "I'm not running a charity here, except for the one where I donate my old towels to poor people with the same initials as me."
Best Kimmy definition: "IMHO" = "Pancakes, got it!"
Best Off-Brand Times Square Characters: Aloha Tree Cat ("Japan Pervco's" Hello Kitty), Metal Hero Friend (Iron Man), and Tree Creature (Cookie Monster).
Episode 3: "Kimmy Goes on a Date!"
Best Descriptions of Kimmy and Titus: Rainbow Brite and Gay Tiki Barber
Best Lillian-ism: On hoarding: "Buying end tables is weird when you have newspapers!"
Best Argument About NYC from Jacqueline's Father Virgil: "The littering here makes me cry."
Best Question About iPhones From Kimmy: "Where is Cupertino?"
Episode 4: "Kimmy Goes to the Doctor!"
Kimmy's Favorite TV Show: "Law Squiggle Order"
Best Jeopardy! Clue: "This 1987 one is terrible" (Answer: Madonna's "Who's That Girl?")
Best Recurring Joke: The third Affleck brother, Myron, who lives in a car and is the producer of the second Spiderman musical.
Best Question From Joshie: "Are you the girl from The Bachelor whose butt prolapsed?"
Best Question From Jacqueline: "You don't know what you look like? How do you know your self worth?"
Episode 5: "Kimmy Kisses a Boy!"
Best Sight Gag: The sign for Kimmy's school, P.S. 0, reads "Scholae Nullo Motto".
Second Best Sight Gag: Titus mixing an invisible drink in order to stay in the kitchen to eavesdrop on Kimmy and her fellow mole woman Cyndee.
Best Recurring Joke: That Brandon is a traditional gay name. (At one point, Cyndee's fiancé meets a stranger who greets him, "Welcome to New York, I wanna say…Brandon?").
Best/Saddest Kimmy-ism: "Age doesn't matter…you can die at any time!"
Episode 6: "Kimmy Goes to School!"
Best Description of Kimmy: "Going back to school like a little red-headed Rodney Dangerfield."
Best Titus Lyric: "As long as it rhymes, everything will be fines."
Best Word for Pistachios: "Tree clams"
Best Word of Clams: "Sea oysters"
Best Conspiracy Theory: "#LizardTruth"
Best Trading Places Reference: "And she stepped on the ball!"
Episode 7: "Kimmy Goes to a Party!"
Kimmy Pretending to Speak French: "Lumière, Belle, Gaston…Beyonce!"
Kimmy's Fancy Party Name: Kimberly Tiara VonLobster
Titus's Magazine on His Fake Laptop: Babies and Outfits
Best Alternate Last Names in the Voorhees Family: Lannister, Rommel
Best Sight Gag: President Warren G. Harding is the face on the negative one dollar bill.
Best Menu Items at Professor Dracula's Spooky Laboratory and Bar & Grill: Monster-ella Sticks and Scary Wine
Episode 8: "Kimmy Is Bad at Math!"
Best Kimmy Exclamation: "Great Chandler's ghost!"
Best Misheard Lyric in EMF's "Unbelievable": "Mimi Kanasis," who is actually a divorced friend of Jacqueline's we meet later in the episode.
Best Recurring Joke: The Olsen twins are actually the Olsen quadruplets. As Dong astutely pointed out, "Of course, it took two of them to play one baby on Full House, so if we see two of them now, there must be four!"
Best American Name for Dong: Richard Pennsylvania
Best Unaired VH3 Reality Program: Joe Invisible Millionaire
Episode 9: "Kimmy Has a Birthday!"
Best Sight Gag: Kimmy's old ID for St. Clotilde's School for Fancy Boys
Second Best Sight Gag: Logan bringing ice, or rather, Breukelen artisenal frozen water, to the party.
Best Full Name: Goliath Gary Wilikers, perhaps best known as Golly Gee Wilikers.
Best Nickname: Kimbecile
Best Katy Perry Criticism: "I don't think anyone says a firework singular, it's fireworks"
Episode 10: "Kimmy's in a Love Triangle!"
Best Definition: "Snowbesity" – When you don't know whether somebody's far or not because they're wearing a winter coat.
Best Uncredited Cameo: Bill Hader as the vampire bartender at Professor Dracula's Spooky Laboratory and Bar & Grill.
Best Burn: "If this is your idea of a joke, you belong in a Woody Allen movie, because I am not laughing."
Best Off-Beat Pop Culture Reference: "He's at his Captain Phillips fantasy camp until Monday."
Best Sight Gag: Photos of Barack Obama, Tom Cruise, Matt Dillon, George Clooney, Hulk Hogan, Lance Armstrong, Tommy Lee Jones, Turtle and Drama from Entourage, and Boo the Pomeranian on the wall at Titus's straight training.
Episode 11: "Kimmy Rides a Bike!"
Best TV Guide Magazine Sight Gag: Top 25 Stars You Can't Memorize cover story
Best Spin Sight Gag: (Not the Music One)
Best Pop-Up Ad: Donna Maria Nunez's Mole Women Mole Sauce
Best Motivation From Tristafe: "Be like a drunk girl getting out of a cab and leave everything behind!"
Episode 12: "Kimmy Goest to Court!"
Best Sight Gag: Titus is reading Land Mall magazine on the bus to Durnsville, Indiana.
Best Name: Judge Bad, the bad judge in the Indiana Mole Women case.
Best Richard Wayne Gary Wayne Comeback: "That's what he said, because she shouldn't be talking!"
Best News Visual: Mole Women, Mole Problems
Best Recommended YouTube Videos: Tracy Morgan's aquarium and Daddy's Boy original ending NSFW
Episode 13: "Kimmy Makes Waffles!"
Best Kimmy-ism: "One day Sandra Bullock will find somebody that deserves her!"
Best Titus Putdown: "You busted Morpheus!"
Best Title: "DJ Wayne – The Party Wayne-iac"
Best Mistaken Identities: Lillian momentarily thinks a red feather duster and a Magic 8 Ball on the couch are Kimmy and Titus.
Best Pronunciation: "Or-lan-ya-doe Floor-ee-dah"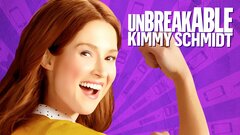 Powered by