Your Pick for TV's Sexiest Couple Is…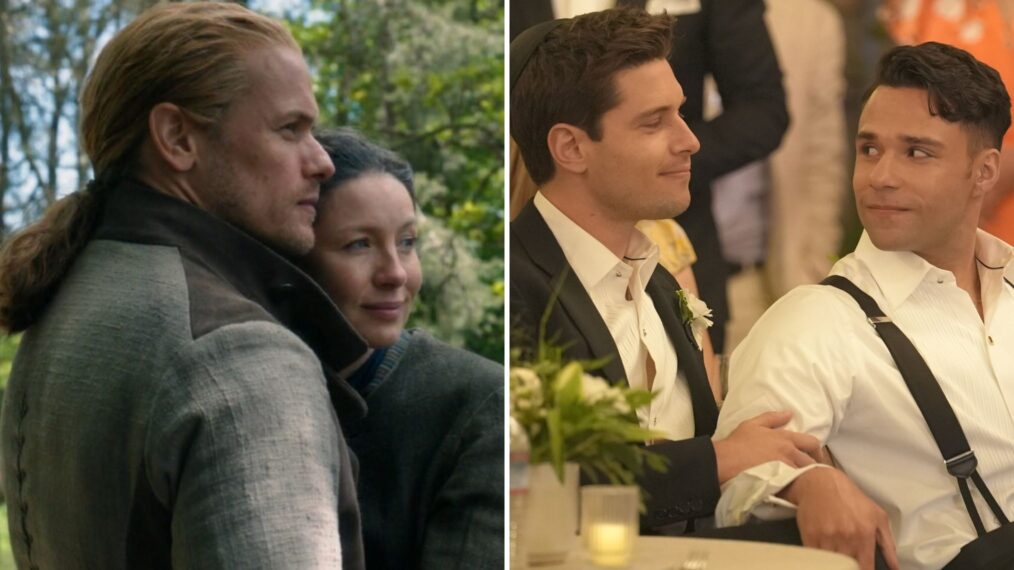 A month ago, in TV Insider Magazine, we asked you to come here to vote for TV's sexiest couple. Because let's face it: We love love, whether it's tragic or messy or easy or drama-free.
Well, now the poll has closed and it's time to see which of the 17 couples we gave you to choose from came out on top, after thousands of votes. The top 5 couples were (not in order): 9-1-1: Lone Star's T.K. (Ronen Rubinstein) and Carlos (Rafael Silva), Law & Order: SVU and Organized Crime's Benson (Mariska Hargitay) and Stabler (Christopher Meloni), Magnum P.I.'s Magnum (Jay Hernandez) and Higgins (Perdita Weeks), NCIS: Hawai'i's Lucy (Yasmine Al-Bustami) and Kate (Tori Anderson), and Outlander's Jamie (Sam Heughan) and Claire (Caitriona Balfe).
And your winner is…
Tarlos from 9-1-1: Lone Star! The fan-favorite couple, whose wedding ended the Fox first responder drama on May 16, won with 30.93 percent of the vote.
"It might seem joyful from the outside perspective, but there's a lot of grief and loss and tragedy, quite honestly, within that wedding, especially the really recent trauma. That's just Lone Star in a nutshell, being able to incorporate all these layers and making you feel so many things all at once," Rubinstein previously told TV Insider of filming the wedding (which came after Carlos' father was murdered).
"It's the brilliance of our writers, of these stories that we're telling. It was really fun from an acting perspective. That place was stunning. It took two days to shoot, and one of my favorite parts is that it was the last two days of shooting in general. We all got to wrap together, to celebrate together another season in the books, and in many ways, party together with the crew and the cast."
As for our poll, Outlander's Jamie and Claire (back soon!) came in second with 26.20 percent of the vote, followed by SVU and Organized Crime's Benson and Stabler (whose slow burn continues) with 11.62 percent. Magnum P.I.'s Magnum and Higgins (back on our screens thanks to NBC) received 8.20 percent of the vote, and NCIS: Hawai'i's Kacy (solid this season after a messy start) came in fifth with 6.86 percent.