'9-1-1: Lone Star': Ronen Rubinstein & Rafael Silva on Tarlos Wedding, That Death & More
[Warning: The below contains MAJOR spoilers for the 9-1-1: Lone Star Season 4 finale "Best of Men" and "In Sickness and in Health."]
9-1-1: Lone Star ended its fourth season with happiness and tragedy.
In the days leading up to the Tarlos wedding. Carlos' (Rafael Silva) father was murdered when he answered his door one night; his killer has yet to be found. And while the wedding was almost postponed, T.K. (Ronen Rubinstein) and Carlos did get married. But there was another death: Owen (Rob Lowe) agreed to his brother Robert's (Chad Lowe) request that he help him die by being with him; his Huntington's symptoms were progressively getting worse.
Rubinstein and Silva take us inside the Tarlos wedding and share their hopes for Season 5.
Rafael, talk about finding out about Gabriel's death and filming those scenes of Carlos' grief.
Rafael Silva: Tim [Minear] started pitching the idea of something happening to Gabriel, and as soon as he started talking about it, I was like, "Is Gabriel going to die?" and he was like, "Who told you? Who leaked this information?" I was like, "No, actually, I had a thought, 'What can go above and beyond being held hostage and going through that suffering, that sort of reality?'" It would be to lose a loved one, and so immediately, Gabriel came to mind.
Obviously, as an actor, to not be with Benito as often to shoot those scenes, I'm going to miss him greatly, but thinking of Carlos immediately broke my heart because I knew what that meant for him. In a way, it destroyed him. Production was really kind to me in scheduling all those shoot dates one after the other, [though] not in sequence. To stay consistent in that headspace is labor. It becomes work. … It's the place of loss and pain because as soon as the cameras stop rolling and we yell, "Cut!" that pain doesn't go away for Carlos. And so maintaining that sense of reality and touching base with what the reality would and does look like for Carlos is a sort of pain. To sustain that head space just takes focus and the consistency of the focus and just doing what works for you to get the truth out, to get the job accomplished.
Ronen, T.K. really enjoyed meeting his Uncle Robert, but he doesn't know yet he's dead. How might he handle that?
Ronen Rubinstein: You're the first person to ask that today, surprisingly actually. I don't know. That's very much something that we're going to explore. I have no idea, I'll say that much. But it'll be really interesting to see what that does to Owen because he's gone through a lot, and this is not easy at all. Maybe there's a connection there.
Carlos proposing to T.K. was a lovely scene. Did they need that as a bridge between losing Gabriel and the wedding?
Silva: Absolutely, I think for Carlos. It was a moment of, "My father died, doesn't mean I have to and choosing life." Just because you choose to marry, choose life, to move forward, it doesn't mean Carlos is forgetting who his father is and was. In fact, it's a choice to rejoice in who he was in becoming the man that he needs to be. It's honoring his father. I would definitely say Carlos needed that moment to exist and to reassert and to propose again because at the end of the day, this is the biggest commitment of their lives and it needs to be intentional. It needs to have a purpose, and they both need to be on the same page: "I choose you again and again and again and again."
Rubinstein: Honestly, I don't think so. I think T.K. would do anything and everything for Carlos. But as a fan of these two characters and this show, I was so stoked that we were going to have that scene. Rafa knocked it out of the park. It's another beautiful layer to this relationship.
Also beautiful were the wedding vows.
Rubinstein: So happy [with them]. We were completely hands-off. There's nobody better to write the vows than Tim Minear and Rashad [Raisani]. Full trust with the words that we are blessed to have from them. The vows especially were a gift. It was a gift to be able to say something like that. There were a few lines that I remember reading for the first time, and it just broke my heart. To still be able to feel that when you're doing this for four years now is a beautiful thing. As an actor, my heartstrings are constantly being pulled just by reading these scenes and scripts. I was so relieved and happy and very emotional.
Silva: For me, the lines made sense. I'm glad they were very straight to the point, that Carlos was honest and vulnerable, not only in front of T.K. but in front of everyone. He kind of told his story a little bit in just that one section, talking about how he's lived in fear and how this moment is a miracle for him before God, before his family, before everybody, and claiming that miracle and not being afraid to be himself. Because I think there would be a world in which Carlos would never say these things out loud ever, in which he never imagined he would be in that specific moment, marrying the love of his life, marrying a man, marrying perhaps his best friend, being T.K. I know that Carlos did marry his best friend when it was Iris. [Silva and Rubinstein laugh] But now Carlos is marrying his new best friend. And she was there. It's such a perfect detail, having Iris be the best woman. It tells so much of their relationship. It tells the healing process behind that relationship, for them individually, as two people that grew up together. At the end of the day, the writers did justice with what they wrote, and we just had to be present to say them.
Talk about filming the wedding, especially after the rest of the finale. It was joyful, which was needed.
Rubinstein: It might seem joyful from the outside perspective, but there's a lot of grief and loss and tragedy, quite honestly, within that wedding, especially the really recent trauma. That's just Lone Star in a nutshell, being able to incorporate all these layers and making you feel so many things all at once. It's the brilliance of our writers, of these stories that we're telling. It was really fun from an acting perspective. That place was stunning. It took two days to shoot, and one of my favorite parts is that it was the last two days of shooting in general. We all got to wrap together, to celebrate together another season in the books, and in many ways, party together with the crew and the cast and really just celebrate each other and love each other because this show takes a lot of people, and it is a lot of work, and it's crazy hours and a lot of these people are sacrificing leaving their families and being there from three in the morning until way past the actors are there. It was a magical, magical moment.
Silva: I echo everything he says.
Gina [Torres] sang and was amazing.
Silva: Gina is an extremely gifted storyteller, and it's an honor and a privilege to really work with her and witness her endowing us with what she carries, which is exuberant possession of storytelling power. I felt very similar to when T.K. and Carlos walked down the aisle, and Ronen and I walked down the aisle. As soon as she started telling the story of "Being Alive" and the story behind that song, especially coming from a character who has also experienced an extremely close loss in her life, her husband, in singing it to the boys, it felt extra special, and the room vibrated, and everyone felt it, and everyone surrendered to the moment. It truly was a gift to experience.
It felt like we heard T.K. referred to as Tyler or Tyler Kennedy more times in the finale than the rest of the series. It's always such a sweet touch to have that in there.
Silva: Yeah. Remind people what his name is. And who gets to say it, too, right?
Rubinstein: Yeah, it's not T.K. by accident. There's a lot of trauma, I think, with that. There's only two people in the world that call him Tyler: his mom and Carlos. Even his own dad doesn't call him Tyler. It's a unique special thing that now only Carlos gets to hold, and yeah, Carlos did say it a lot.
Kids are still undecided. Does a decision on that need to be made soon?
Rubinstein: Looking at it from an outside perspective, T.K. needs to give Carlos all the room right now to hunt this mother f'er down, whoever did that to his dad. Then maybe we'll talk about stuff like that. The follow up to where we're going to see these characters in Season 5, it's going to be very recent, so that's the furthest thing from my mind right now thinking as T.K.
Silva: I'm not sure if there's a rush necessarily because things are going to happen to these characters. It may surprise us. We may have our own dreams and little obsessions about it, but I think at the end of the day, we're going to find out either the week or the day before. Essentially we've truly been gifted with a storyline for these two characters that, especially with another family member coming in [for T.K. and] leaving all of a sudden and his relationship with his family, my relationship with my family…
Rubinstein: And we now know your sisters. I want to explore that so bad. They were so awesome to work with.
Silva: This family [gestures between himself and Rubinstein], too.
Rubinstein: They're married now.
Silva: Yeah, now there is this unit. Now there is this family being constructed and coming into play. They need to figure out who they are married, too. Do things change? Do they not change? What does that look like?
Rubinstein: Sometimes they do.
Do you think they'll stay in that apartment? Because I kinda miss the house that burned down.
Silva: You're the only one who misses it. [Laughs] Just kidding.
Rubinstein: That set was very hard to shoot lighting-wise. It was a very dark space. We all did love it, and the interior decoration of that place was incredible. But we've got to remember we had some beautiful moments [there]. One of my favorites is on the staircase where Carlos is lit like an angel, and T.K. sort of crawls over to him, just falls in his arms. That is one of my most favorite little moments that we've had. …. Yeah, let's get a big house with a yard. That'd be fun. That'd be a new favorite. Maybe a pool. Maybe we could pitch this to the writers so then, on our lunch breaks, we could swim.
Rafael, might Carlos consider transferring to the Rangers after losing his father?
Silva: I think that Carlos is not the same since his father's murder and will do whatever it takes to get an answer, some answer, any sort of answer, and he will take the path necessary to [do so]. I don't know what that looks like. The writers did a great job being like, "Hey, you're talented at being a detective. Hey, you have traits that might facilitate your becoming this." But we don't know. I think that's the point. We set a lot of things up to see which one are we going to pick. What is this going to look like? Is it one of these, or is it nothing at all? Let's start differently. Always keeping the mindset of anything is possible is daunting, but I think it's a great gift that the writers give us. But I'll tell you this: He's not going to stop until he gets an answer.
What do you each want to see in Season 5?
Rubinstein: I think T.K.'s focus is going to be, how is Carlos doing? This is a really intense and very unique position to be in. I can't even imagine where they're going to go with that. And then seeing married life. But we end on such an intense tragedy, I think that's going to be mission number one.
Silva: I think Season 4 was such a special season.
Rubinstein: It was my favorite one.
Silva: All of Season 4 was fantastic. The season felt special [and] mature in the sense of we understand who these characters are, and because we understand them, we can dream about what they want to do or things that we would like to see them doing. For me, at the end of the season, it's like, how the hell are we going to top this one? How is it going to get any better? And it does. I think the purpose of that is that we have to rely on our extremely dedicated, talented, and hardworking writers and trusting them —
Rubinstein: — in everything —
Silva: — and believing them, with our leader, Tim Minear and Rashad and the writers' room and Ryan Murphy for creating the show, Tim Minear for creating the show, and Brad Falchuk and creating this world in which we can live in. Something always gets crazier. Lone Star is going to get crazier; I absolutely can attest to that. It's been consistent. Also, this season, we learned more about these characters. We got to feel with these characters; we got to experience these characters more. Selfishly, I want more of that. I want more of this [gestures between himself and Rubinstein], of the nuanced character traits that come out when we want to say something desperately, but we don't because there's a fear. There's something in there that prevents us from speaking our truth. We've got such an extremely talented cast, too — and I say that humbly — and I think we can utilize that even more so next season, along with the emergencies, obviously.
9-1-1: Lone Star, Season 5, TBA, Fox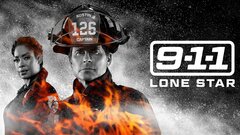 Powered by