'NCIS: LA' Series Finale Part 1: Team's Last Case, Wedding Planning & More (RECAP)
New Beginnings
Season 14 • Episode 20
[Warning: The below contains MAJOR spoilers for NCIS: Los Angeles Season 14 Episode 20, "New Beginnings."]
It's the beginning of the end, and NCIS: Los Angeles is going out in style. (It's also reminding us of its early days, with Season 1 footage mixed into the opening credits, which we love.)
For the team's last case, ATF brings them in to assist when an undercover agent working a weapons case goes missing; his boss, Adams, suggests that he could have gone rogue. But when they do meet up with said agent, Newsome, he agrees to have Kensi (Daniela Ruah) and Deeks (Eric Christian Olsen) be on overwatch while he goes back undercover, which is questionable if he's actually dirty, unless it's to be his alibi or it's a trap.
Meanwhile, Sam (LL Cool J) and Callen (Chris O'Donnell), since this is a weapons case, meet with Kilbride's (Gerald McRaney) old friend, arms dealer Nina, to see what she knows. She can't give them the leader's name (but can provide intel for $200 worth of assorted pastries).
Adams points to some extra cash Newsome has that she can't determine a source for as raising her suspicions, as well as the fact that this group they're tracking has stayed three steps ahead of them. Someone has to be giving them information. The pieces quickly fall into place: Newsome has family money, and Adams' financials don't add up. She's the one who's dirty, and the first part of the finale ends with Sam and Callen in the middle of a shootout with her.
Meanwhile, Callen and Anna (Bar Paly) are trying to get ready for their wedding — if they can manage her father Arkady (Vyto Ruginis) wanting to bring two dates and the band having to cancel (Arkady knows a Vegas DJ).
Sam, after spending the morning in the park with his father (Richard Gant), receives a call from him asking where he is. He has to remind him that they already worked out, and when he picks him up from the park, his dad realizes Sam's right. So why won't he consider the drug trial Sam has found for him? His dad agrees.
Rountree (Caleb Castille) brings his sister to an interview for medical school, and she tries to prepare him for her not getting in. But, later, he has other things on his mind, namely that there's been movement in his civil case against the LAPD of some sort.
Finally, Kensi's been sick after eating leftovers that had been in the fridge for a week; she blames Deeks for leaving them that long. And when her head's bothering her later, he thinks they should get full body scans because it's better to be safe than sorry. Because we've watched a lot of TV, we can't help but wonder if Kensi might be pregnant … though to be fair, food poisoning, with this couple, is just as likely.
NCIS: Los Angeles, Series Finale, Sunday, May 21, 9/8c, CBS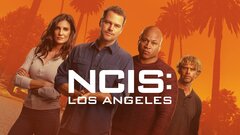 Powered by