A Farewell to 'NCIS: LA': Daniela Ruah Looks Back on Kensi's Journey
It was back in May 2009 that viewers first met the Office of Special Projects, as part of a backdoor pilot on NCIS. That September, NCIS: Los Angeles premiered, and 14 years later, it's saying goodbye after a fantastic run of cases, family, and, of course, explosions.
Ahead of the official NCIS: LA sign-off, TV Insider chatted with cast members to hear about their favorite memories and get their thoughts on their characters' endings (no spoilers, we promise!). With the first part of the finale airing on May 14, we're kicking this off with Special Agent Kensi Blye herself, Daniela Ruah.
What is your favorite moment from NCIS: LA that is really representative of your character?
Daniela Ruah: This is a really hard question to answer since 14 years of experiences cannot possibly be reduced to one single representative moment… every milestone and obstacle overcome is demonstrative of Kensi's strength as a character and has defined who she is.
Which episode or scene was the most physically and emotionally challenging for you to shoot?
My favorite scenes have always been stunts and the fight choreographies I was given the chance to perform. However, I would say the most challenging were the scenes where Kensi was recovering from the helicopter crash in Season 8. I was pregnant with my daughter but as Kensi, I was recovering from partial paralysis, going through all the physiotherapy and psychological repercussions of trauma. It was a splendid challenge as an actor.
What did you take from set as a memento and why?
I kept Kensi's badges. We always had two, so I brought them home for each one of my kids. They were born on the show and spent their early years with me on set, so it felt special to give them something they can have, to look back on. I also kept a photo hanging on Hetty's [Linda Hunt] office wall — an old photo of the Pantages Theatre on Oscar night. And of course… some of my favorite Kensi outfits!
Which trait from your character will you strive to keep alive in yourself, in your real life?
Kensi is a woman of much inner strength and integrity. She will fight for good until the end, and I will continue to live my life that way too.
Are you happy with how your character's storyline wrapped up and did you have any input into it?
I'm extremely happy. Kensi started her journey as a woman who would only count on herself emotionally and fiercely living for the job. She grew up and matured into wanting a life with Deeks [Eric Christian Olsen] and a family of her own while still excelling at the job. … Kensi deserved all the desired happiness that came her way. And I believe the spectators were hoping for their happy ending, too. Scott Gemmill and our writing team did a magnificent job at tying up all the good guy ends while maintaining the feeling that their lives go on.
NCIS: Los Angeles, Two-Part Finale, Sunday, May 14 & 21, CBS (CBS Presents A Salute to NCIS: Los Angeles, an Entertainment Tonight special, May 21, 10/9c)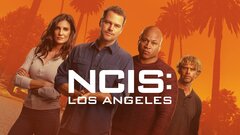 Powered by