Jeremy Renner to Make First Public Appearance Since Snow Plow Accident at 'Rennervations' Premiere
Jeremy Renner is set to make an in-person appearance at the world premiere of Rennervations on April 11 at the Regency Village Theater in Los Angeles, according to Variety.
It will serve as the actor's first press event following his snowplow accident on January 1. Renner received blunt chest trauma and orthopedic injuries when his Sno-Cat, weighing over 14,000 pounds, ran over him while attempting to assist his nephew out of the snow near his Lake Tahoe residence.
The actor broke over 30 bones due to the incident, sharing on social media during his hospital stay, "these 30 plus broken bones will mend, grow stronger, just like the love and bond with family and friends deepens. Love and blessings to you all."
Since the injury, Renner has shared updates with his fans on social media.
"I've been on this journey for many years, and I started in my community by building vehicles for people in need," Renner said about Rennervations. "But a few years ago, I thought, 'How can I plus this up and create a bigger impact on a whole community?' And that's what this show does. This is one of my biggest passions, and it's a driving force in my recovery, and I can't wait for the world to see it."
Earlier this week, he shared a video of himself in rehabilitation, using an anti-gravity treadmill for assistance. The Hawkeye and Mayor of Kingstown star explained that the treadmill takes off a percentage of his body weight, which allows him to walk by himself while his leg slowly recovers.
Rennervations, Series Premiere, Wednesday, April 12, Disney+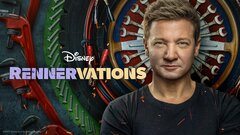 Powered by