Jeremy Renner's 'Rennervations' Sets Premiere in Starry First Look (VIDEO)
Jeremy Renner's Rennervations is officially setting a premiere date at Disney+ and fans are getting their first look at the four-part series featuring plenty of the actor's famous friends.
Premiering Wednesday, April 12 with all four episodes, the show follows Renner and his team of expert builders as they use their skills to reimagine decommissioned vehicles and rebuild them into mind-blowing creations serving communities around the world. Prior to the premiere date announcement and trailer release, Renner teased the show's arrival on social media amid his recovery following a snow plow accident.
"I've been on this journey for many years, and I started in my community by building vehicles for people in need. But a few years ago, I thought, how can I plus this up and create a bigger impact on a whole community – and that's what this show does." said Renner in a shared statement.
"This is one of my biggest passions and it's a driving force in my recovery, and I can't wait for the world to see it."
Apart from his onscreen success in projects such as Hawkeye and Mayor of Kingstown, Renner is a construction vet with a passion for purchasing and reimagining huge vehicles. Helping Renner in the venture is his best friend and business partner, Rory Millikin, lead mechanic Corey Wardleigh, lead fabricator Rob "Bender" Park, and all-star building crew Roxy Bonilla, Justin Self, and Merri Oswald, Akamu "AK" Whatley, Skiland "Ski" Judd, Ryan Gunter, and Nick Socha.
Among the projects they're tackling are repurposing a tour bus into a mobile music studio, transforming a delivery truck into a mobile water treatment facility, making a shuttle bus over into a mobile recreation center, and a city bus is changed into a mobile dance studio. The efforts are supported with the help of stars including Renner's Marvel pal Anthony Mackie, Vanessa Hudgens, Anil Kapoor, and Sebastián Yatra.
The show also takes Renner and crew around the world as locations range from Reno, Nevada, and Chicago, Illinois to Cabo San Lucas, Mexico, and Rajasthan, India. At each location, Jeremy connects with leading organizations such as Big Brothers Big Sisters, The BASE Chicago, Uva Jagriti Sansthan, and Casa Hogar of Cabo San Lucas in order to learn about the needs of their local communities before commencing projects.
Get a special first look at the action in the trailer above, and don't miss Rennervations when it premieres on Disney+ this April.
Rennervations, Series Premiere, Wednesday, April 12, Disney+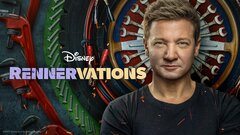 Powered by