Jeremy Renner Shares Video of Himself Walking Again After Snow Plow Accident
Mayor of Kingstown star Jeremy Renner is still recovering after his snow plow accident in January and is slowly but surely getting back on his feet.
In the latest update on his social media, Renner shared a video on his Instagram Story showing him walking with the aid of an anti-gravity treadmill. The Hawkeye actor confirms in the video that he is doing the "walking motion" himself but with "only 40% of his body weight" due to the help of the machine.
"Now is the time for my body to rest and recover from my will," Renner captioned the post.
Renner has shared several updates on social media since suffering a severe accident on January 1 when a large snow plow ran him over as he was trying to help a family member out of the snow. He was hospitalized for blunt chest trauma and orthopedic injuries and later confirmed he'd broken over 30 bones.
"These 30 plus broken bones will mend, grow stronger, just like the love and bond with family and friends deepens. Love and blessings to you all," he wrote in a previous Instagram post.
Last month, Renner shared a video of himself on an exercise bike, using one leg to pedal with the assistance of a pole-like tool. "Whatever it takes," he wrote alongside the clip, referencing a line from Avengers: Endgame.
Earlier this month, Disney+ confirmed that Renner's new home renovations series Rennervations will premiere on Wednesday, April 12 with all four episodes. The show follows Renner and his team of expert builders as they reimagine decommissioned vehicles and rebuild them into mind-blowing creations serving communities around the world.
"I've been on this journey for many years, and I started in my community by building vehicles for people in need. But a few years ago, I thought, how can I plus this up and create a bigger impact on a whole community – and that's what this show does," Renner said in a statement. "This is one of my biggest passions and it's a driving force in my recovery, and I can't wait for the world to see it."
Rennervations, Series Premiere, Wednesday, April 12, Disney+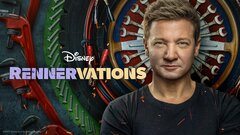 Powered by