'Rick And Morty' Co-Creator Justin Roiland's Domestic Violence Charges Dismissed
The Orange County District Attorney's office dismissed domestic violence charges against Rick & Morty co-creator Justin Roiland on Wednesday, March 23, with the screenwriter saying the allegations were "based solely on the word of an embittered ex."
"We dismissed the charges today as a result of having insufficient evidence to prove the case beyond a reasonable doubt," Orange County District Attorney's office spokesperson Kimberly Edds told The Hollywood Reporter.
Roiland, who voices the Rick & Morty protagonists, Rick Sanchez and Morty Smith, took to Twitter on Wednesday afternoon to share a statement on the matter, stating that he has been "deeply shaken by these lies."
"I have always known that these claims were false — and I never had any doubt that this day would come," he wrote. "I'm thankful that this case has been dismissed but, at the same time, I'm still deeply shaken by the horrible lies that were reported about me during this process."
He continued, "Most of all, I'm disappointed that so many people were so quick to judge without knowing the facts, based solely on the word of an embittered ex trying to bypass due process and have me 'canceled.' That it may have succeeded, even partially, is shameful."
justice pic.twitter.com/1q9M4GA6MV

— Justin Roiland (@JustinRoiland) March 22, 2023
The charges, which were made in 2020, first came to public attention in January 2023, and since then, Roiland has been let go from several jobs and projects. Adult Swim (which airs Rick & Morty) and Hulu (which airs Solar Opposites, which Roiland co-created) both cut ties with him. He also resigned from Squanch Games, the developer he co-founded in 2016.
After the allegations came to light, several women opened up on social media claiming to have received inappropriate messages from Roiland. And, in a THR investigation, various colleagues of Roiland described his troubling workplace behavior, including one alleged instance of sexual harassment during Rick & Morty's third season.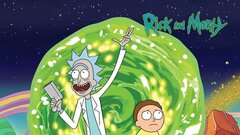 Powered by