'CSI: Vegas' Boss on Greg's 'Next Chapter' in Return, Plus Reunion With Catherine
Greg Sanders (Eric Szmanda) isn't just coming back to the Crime Lab to help out the team on CSI: Vegas, starting with the March 30 episode. The CSI vet is also in need of some guidance as well.
"Can I first just say it's a pleasure to be working on a franchise that's got such an incredible bench of all-star fan favorites? And Greg is certainly one of those," showrunner Jason Tracey raves to TV Insider.
"We wanted to work with him because when we last left him in the original series, he was still a Vegas guy. He was still at the lab. In the intervening years, he did retire and kind of go off to write books, but we thought that there was a fun story to tell about how hard it is to walk away from his job and to find your own footing in the middle of life and find that next chapter and that has a lot to do with what Greg's coming back to do," he previews.
Greg's coming back at a time when his friend and former coworker Catherine Willows (Marg Helgenberger) is also at the lab once again. "They're fantastic onscreen together," Tracey says. "The sort of big sister, little brother dynamic that they always played came right back instantly. It's like just add water. It's fun to watch them."
Helgenberger's reprisal of Catherine for Season 2 came after fellow CSI vets William Petersen (Gil) and Jorja Fox (Sara) starred in the first season. (Paul Guilfoyle and Wallace Langham also returned.) So could we see more original cast members in the rest of this season or next (the drama has already been renewed)?
"Not this season, but we're just getting the room started on Season 3," Tracey shares. "We're grateful to CBS for bringing us back for more fun. And we definitely have a short list of folks that we might go to to bring in some other folks from the CSI universe. I hope we can find a way to do it."
After all, there are always crimes to be solved in Vegas.
CSI: Vegas, Thursdays, 10/9c, CBS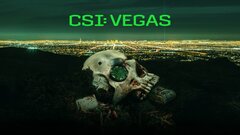 Powered by