'CSI: Vegas' Gets More OG Help — First Look at Eric Szmanda's Return as Greg (PHOTOS)
Welcome back to the Crime Lab, Greg Sanders!
Eric Szmanda returns to the world of CSI in the March 30 episode of Vegas, and TV Insider has an exclusive first look. Check out the photos above and below to see him with the team members who joined the sequel in the first season, boss Maxine Roby (Paula Newsome), Joshua Folsom (Matt Lauria), and Allie Rajan (Mandeep Dhillon).
Greg is back to lend a helping hand with the team — and reunite with Marg Helgenberger's Catherine Willows — with Szmanda set to appear in multiple episodes as the CBS drama nears the end of Season 2. (The good news: We already know it's been renewed for Season 3!) Szmanda played the lab tech, then CSI throughout the original series' run.
His first episode is "The Promise," which was written by CSI franchise creator Anthony E. Zuiker and also features guest star Regina Taylor. When the body of a young girl who was killed over 40 years ago is discovered at the bottom of Lake Mead, Max Roby promises her mother, Raquel Williams (Taylor), that the CSI team will finally find justice for her daughter.
Zuiker had been the one to originally tease Szmanda's return to us in October 2022. "I shall not mention names. But there shall be a face that might be quite familiar in the episode I'm writing, Episode 217," he said at the time. It was in December that we found out who would be back.
Then, when we spoke with CSI: Vegas star Jay Lee in January, after his character Chris revealed Greg had reached out to him regarding forensics, he shared, "I will say that when I first met Eric, it felt like meeting an old friend a bit because Jorja Fox [who played Sara Sidle] was with us last season and Jorja's maintained a relationship with him, as I believe a lot of the OG cast members have."
Furthermore, though they have communicated in the past, "their relationship might not be what you would expect," Lee teased, adding with a laugh, "how's that for cryptic?" What he could say is that when Greg does show up, "it will be glorious and a lot of fun."
Glorious, indeed.
CSI: Vegas, Thursdays, 10/9c, CBS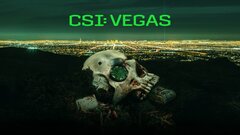 Powered by