Jeff Probst Confirms 'Survivor' 44 Has First Showmance in 7 Seasons
Rumors of a Survivor Season 44 showmance have been making the rounds online since cast member Danny Massa predicted there would be one in a pre-filming interview. And now we can confirm that those rumors are true! Jeff Probst told TV Insider as much in our recent interview ahead of Survivor 44's premiere, airing Wednesday, March 1 on CBS.
Right before filming began, Danny said to Entertainment Weekly that he had a feeling people would couple up this season. We asked Probst what he thought of that prediction.
"I hadn't heard of Danny's prognostication!" the longtime host replied. "That's fascinating. I wonder if he noticed something between two players during pre-game or if he just has a hobby of making love predictions."
"Either way, he might want to consider getting a crystal ball and doing this full time because his instincts were spot on!" Probst continued. "Survivor 44 has a showmance, our first showmance in a very long time. I won't say anything other than if it lasted, it would make me very happy."
The last Survivor showmance was in Season 37 in 2018 when Dan Rengering and Kara Kay caught the love bug, but their relationship ended before the finale. The first showmance in seven seasons and five years is certainly an exciting development!
No word on when the showmance will develop, but based on promos for the season, the romance could be one of many exciting developments in the new installment. Fans have been buzzing about the Survivor 44 cast since it was revealed in the trailer at the end of the Survivor 43 finale. The crew seems rowdy, rambunctious, entertaining, and full of personality — a recipe for success on any reality competition series. Probst tells us this season of Survivor could be one for the books.
The two-hour season premiere begins at 8/7c on March 1 on CBS (catch it streaming on Paramount+ at the same time). In it, players will be split into Tribes Ratu, Soka, and Tika. Here's a glimpse into the Survivor 44 premiere's challenges, courtesy of CBS:
"Immediately upon reaching the beach, the three tribes go full throttle in their first challenge to earn crucial camp supplies. The remaining two tribes must choose between a mental or physical challenge to earn their camp essentials. Then, as castaways begin to get acquainted with each other, each tribe must choose one person to take a journey and make the first big decision of the game."
The episode is aptly titled "I Can't Wait to See Jeff." And we can't wait to see this showmance!
Survivor, Wednesdays, 8/7c, CBS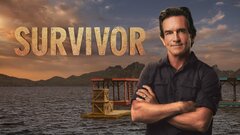 Powered by