'Ozark' Showrunner Sets Record Straight on Who Died in Series' Final Moments
Nearly 10 months after Ozark went out with a literal bang, showrunner Chris Mundy is giving the final word on that final (gun) shot.
At the end of the Netflix crime drama's series finale, released in April 2022, private investigator Mel Sattem (Adam Rothenberg) confronts Marty and Wendy Byrde (Jason Bateman and Laura Linney) at their home… only to find himself on the business end of a gun in the hands of Jonah Byrde (Skylar Gaertner), Marty and Wendy's son. And after that last episode cuts to black, viewers hear a gunshot, leading some to wonder which characters in the scene met their maker.
"Definitively in my mind, and anyone's free to think whatever they want, but in my mind, he absolutely shot Mel, and Mel is dead, and that's that," Mundy said at an Ozark Q&A panel in Hollywood on Friday, February 17, per Variety. "I just didn't want to see it. It was over. If you shot him, then you're in the blood and the guts… but the show was over. He did it."
Mundy also said that for as much as the Byrdes thought they were "building a myth," they were actually "creating a curse." And Bateman added during the panel that even though Marty and Wendy "get away with it" at the series' end, they have to face the reality that the family's criminal dealings have turned Jonah into a murderer.
At the panel, Mundy and Ozark star Julia Garner also gave their thoughts on the demise of Ruth Langmore, Garner's character, in that same episode.
"Ruth was almost a stronger character in death than she would have been if she was off living somewhere," Mundy said. "That was our hope for the show. As everyone's favorite character — Jason's favorite character, my favorite character — you just wanted to do it justice."
For her part, Garner told attendees at the Q&A that killing off her character was the "best decision Chris could have made." By the second part of Season 4, Garner said, "[Ruth] had already died. Her soul died. She was physically here, but in the last four episodes, she was already dead."
Ozark, a massive hit for Netflix, is up for four awards at the 2023 Screen Actors Guild Awards, more than another other TV show this year. Bateman, Linney, and Garner are all nominated, and the cast is collectively in the running for Outstanding Performance by an Ensemble in a Drama Series. The 2023 SAG Awards will stream on Netflix's YouTube channel on Sunday, February 26, at 8/7c.
Ozark, Streaming Now, Netflix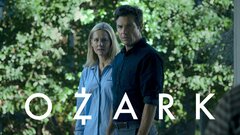 Ozark
where to stream
Powered by