Netflix Dominates 2022 Streaming Charts as 'Stranger Things' Lands Top Spot
Netflix might have reported a drop in subscribers for the first time ever last year, but that didn't stop the streamer from dominating the Nielsen U.S. streaming charts for 2022.
Stranger Things did much of the heavy lifting, with a reported 52 billion minutes viewed across all of its four seasons — the show's fourth season premiered last year in two separate parts. As a result, the popular sci-fi horror drama took the number one spot on both the Overall Streaming list and the Streaming Originals list.
It wasn't just Stranger Things, though, as Netflix programs took up 11 of the 15 top spots on the Overall Streaming list and 13 on the Streaming Originals. This included Ozark, which landed at No. 2 on the originals chart and No. 4 on the overall chart with 31.3 billion minutes viewed. And recent hit Wednesday, which placed at No. 3 on the originals list (and No. 12 overall) with 18.6 billion viewing minutes.
Other Netflix originals featured in the list include Bridgerton, Cobra Kai, Dahmer, Love Is Blind, Virgin River, Inventing Anna, and The Crown.
Meanwhile, Prime Video landed two spots in the originals chart with The Boys (at No. 11) and The Rings of Power (at No. 15), while Disney+ appeared three times in the overall chart with Encanto, Bluey, and The Simpsons.
Long-running procedural NCIS also came in at No. 2 on the overall list, while the children's show Cocomelon secured the No. 3 spot. Other classic shows such as Seinfeld, Gilmore Girls, and Grey's Anatomy also appeared on the chart.
Check out the full charts below.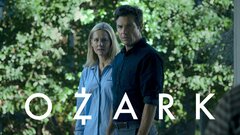 Ozark
where to stream